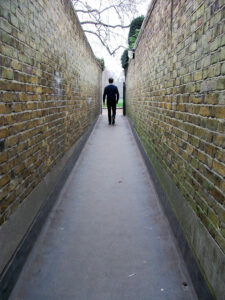 "When he had finished speaking, Jesus left and hid himself from them." John 12:36 NIV
Ever have times when you feel like hiding?  I bet we all do—and we're in good company. The apostle John tells us that Jesus hid too.
The instance in the scripture above took place in Jerusalem during the week before Jesus's crucifixion. While speaking to a crowd, he predicted his death and encouraged the people to "'Believe in the light . . . so that you may become sons of light,'" (first half of v.36). Then he left and hid from them.
We aren't told why Jesus hid from the people at this time. Maybe he needed a break from the crowd surrounding him daily. Or possibly he was trying to prevent an uproar that could lead to his death before the time was right. He might have wanted the people to have time to consider what he'd just said. Whatever the reason, Jesus saw the importance or felt the need to hide.
An oft-quoted passage from the Bible tells us that "There is a time for everything, and a season for every activity under heaven."(Ecclesiastes 3:1 NIV) If Jesus saw that there was indeed a time to hide, should we not secret ourselves away at times as well?
So when should we hide away—either from everyone, those outside our closest circle, or maybe just from our work environment?
One instance might be when we're in serious need of rest or refreshment. Another could be when we need some time to focus on a certain project, person, or aspect of our lives. There may even come a time when we need a period of healing or a season when we need to hide for protection. And we always benefit when we take time to hide away with the Lord, through daily time in prayer and the Word and also in extended times alone with him.
I wonder if it's a time to hide for any of us right now. Can we sense the importance of such a time? Do we feel the need? Let's remember that there is indeed a time for everything. Yes, even a time to hide.
". . . hide me in the shadow of your wings" Psalm 17:8 NIV
*When was the last time you hid? Why did you do it? What resulted? Do you need to hide now?
*The next issue of Life Notes, my quarterly inspirational newsletter with a giveaway in every regularly scheduled issue, will come out in early November. Sign-up is FREE. *Temporary problem with Life Notes sign-up. To sign up, just contact me.
*For info about my book Mother of the Bride check out my Books/My Work page.