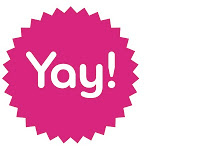 Time to announce our "Back At It" Giveaway winner! The lucky winner of a $15 Barnes & Noble gift card is Nanette (Mom Never Stops)! I'll get the gift card to you, Nanette, as soon as possible. Have fun picking out something that hits the spot for you!
Have you all been busy the past couple of weeks getting "Back At It" in some area of your lives? I got back on track with writing my normal blog posts after several weeks of Time for Photo Fun, and I hope our "Back At It" theme spurred you on to get back on track with something as well.
Let me leave you with some thoughts that can help us all be "Back At It" winners — thoughts that can inspire us to stick with it and be victorious in whatever our "Back At It" efforts may be. Hope one of these quotes hits the spot for you!
"Always bear in mind that your own resolution to succeed is more important than any one thing." Abraham Lincoln
"Energy and persistence conquer all things." Benjamin Franklin
"There is no chance, no destiny, no fate, that can circumvent or hinder or control the firm resolve of a determined soul." Ella Wheeler Wilcox, American author and poet, 1850-1919
"But as for you, be strong and do not give up, for your work will be rewarded." 2 Chronicles 15:7

*Flickr photo by Richard Moross
**Please be in prayer for our blogging friend and frequent commenter here on the blog, Elaine. She recently found out that she has breast cancer. Let's support her and her family with our prayers!