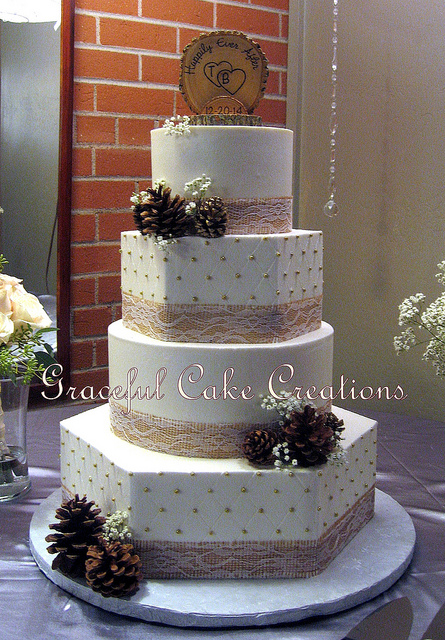 Mother of the Bride, is your darling daughter planning a wedding this winter or next winter? If she's getting married in the next two or three months and hasn't decided on a cake design yet, today's simple style might be the one she'll love. And if she's planning for next winter, add this idea to the list of design options she'll consider in the coming months.
First she'll need to decide if she wants to incorporate a winter theme in her cake design. She may not want to choose a cake that's seasonal in design—and that's fine. A wedding cake doesn't have to be dictated by the season. But if she'd like her cake to feature a winter touch, be sure to share this post with her.
One classic and perfect option for a winter wedding cake is to adorn it with pinecones and baby's breath. The baby's breath tucked into and around the pinecones will give the appearance of snow and will be perfect set against the backdrop of a pure white cake. The cake shown above is a country chic style, but pinecones and baby's breath will work with other styles of cakes as well.
So MOB, if your winter wedding bride wants to add a touch of winter's snow to her cake, suggest this design. And then run out and collect a few pine cones!
*You might also want to read Winter Wedding Cake Idea: Snowflakes!, Blogging Break Plus Favor Help for Winter Weddings, and Winter Wedding Favor: Dancing Socks! 
*Have you subscribed yet to Life Notes, my quarterly inspirational newsletter with a giveaway in every regularly scheduled issue? If not, sign-up is FREE and to the right! (If you're on a mobile device, just scroll to the bottom of the screen and click View Full Site to find it.)
*Flickr photo by Graceful Cake Creations, Creative Commons License