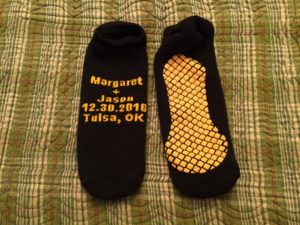 I know it's June and most people aren't thinking of winter, but you and I both know, Mother of the Bride, that winter weddings are being planned as we speak, right? If your darling daughter has chosen a winter date for her big day, then this post is for you. Just turn the air conditioning up enough to make you shiver, and you'll be in the mood for winter ideas in no time!
If your little bride-to-be hasn't settled on a favor idea for her winter wedding bash, here's an idea that might just set her feet to dancing. How about some warm and cuddly dancing socks so everyone can kick off their shoes and dance the night away in comfort? No frozen toes for your guests, right?
Grippy socks personalized with the bride's and groom's name and wedding date—and in the colors of the wedding, of course—are not only a fun memento from the wedding but are practical as well. Just do a google search of "personalized socks for wedding favors" or "personalized wedding socks" and you'll find several ideas and options to choose from.
Why not pass this idea on to your daughter and see if she gets a little dance fever? Just be prepared to kick off your shoes and have fun, MOB!
*You might also like to read Wedding Favors That Grow: Tree Seedlings! and Favor Help for Winter Weddings.

*My photo