Coming Fall 2025!
I've signed a contract with B&H Publishing and my Christmas devotional book will be hitting shelves Fall 2025! It has only a working title now, but it's designed to help readers reclaim the beauty and wonder of the Christmas season. I'm so excited to be able to offer a beautiful new devotional resource for use during the weeks leading up to Christmas. May God be glorified in it and through it! Stay tuned for more details!
Available Now
Mother of the Bride: Refreshment and Wisdom for the Mother of the Bride is the perfect gift and resource to refresh and encourage mothers of the bride and offer them wisdom and practical help as well.
Through essays featuring relevant quotes or Scriptures, personal stories, nuggets of wisdom, simple suggestions for personal pampering, journaling opportunities, communication aids, and practical tips for wedding planning, Mother of the Bride will nurture the all-important but too often neglected mother of the bride. Plus, the vendor worksheets at the back of the book provide invaluable help.
If you're a mother of the bride, I pray that this book designed especially for you will bless you immeasurably on your MOB journey. And if you're not an MOB, why not make Mother of the Bride your go-to gift for mothers of the bride you know—now and in the coming years!
What Others Are Saying:
"A simply gorgeous book steeped with beautiful wisdom for that wonderful yet stressful time in a mother's life . . . preparing for a daughter's wedding. It's soothing yet logical, calming yet organized, written to maintain a steady awareness of self as well as the feelings of the daughter and all those around the two of them. Such a pretty book, too, making it a marvelous gift. I really love it." – C. Hope Clark, author of the Edisto Island Mystery Series
"Mother of the Bride certainly lives up to its promise to deliver refreshment and wisdom! With been-there insight, Cheryl Barker comes alongside the reader and walks her through a joy-filled but challenging road with both inspiration and practicality. She is your cheerleader, your counselor, and your reality check when things threaten to spiral out of control. This will be my go-to gift for new mothers of the bride I know!" – Jocelyn Green, co-author of The 5 Love Languages Military Edition
"Mother of the Bride: Refreshment and Wisdom for the Mother of the Bride is a lovely friend to accompany you on your journey as the mother of the bride. With wisdom and grace Cheryl shares her experiences as a mom of two married daughters. Her suggestions and ideas help you navigate what is often a stressful time, while her encouragement challenges you to take a deep breath and find joy along the way. The book provides areas to write down memories, dreams, and goals, and so will become a precious memento of your daughter's special day." – Julie K. Gillies, author of Prayers for a Woman's Soul
"Mother of the Bride is practical and inspirational. It's like having a friend hold your hand through the pre-marital and wedding process. It's definitely a perfect gift for any mother-of-the-bride to be!" – Mary DeMuth, author of Worth Living: How God's Wild Love for You Makes You Worthy
*Best way to purchase – If you'd like to purchase a personalized, author-signed copy, contact me with your request. I'd love to send you one!
Buy online at:
My original Wedding Inspiration cards: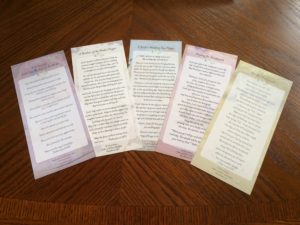 My cards are printed on high quality cardstock and make wonderful gifts and/or personal resources. Click on the photo to see a larger picture, and I'll list the card titles below for your convenience.
Most of the titles are pretty self-explanatory, but Life Lessons from the Mother of the Bride features lessons that anyone can benefit from and For the Newlyweds is perfect to include in a wedding gift or to send to the couple in the days or weeks following the wedding.
The cards sell for $3.00 each (tax and shipping included) and are available directly through me. Just contact me to place your order. White envelopes are included.
A Mother of the Bride's Prayer
A Bride's Wedding Day Prayer
Praying for Newlyweds
For the Newlyweds
Life Lessons from the Mother of the Bride
Also find my work in these compilations:
Blue Mountain Arts Compilations that include my work:
The Language of the Heart . . . To a Beautiful Daughter
There Is So Much to Love About You…Daughter
A Little Bit of Love for You, Daughter
The Love Between a Mother and Daughter Is Forever
The Greatest Gift of All Is…A Daughter Like You