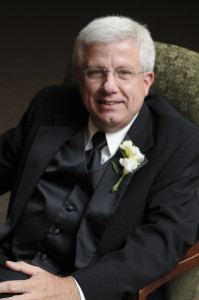 Mother of the Bride, if getting the Father of the Bride to pose for a picture seems as impossible to do as catching a unicorn, wedding day is the answer to your prayers. Don't miss your chance. Who knows when such an opportunity will roll around again!
What better time to capture a great photo of the former main man in your little girl's life? After all, he's all dressed up with nowhere to go while he waits to walk your daughter down the aisle. The Father of the Bride above just happens to be my husband on the day of our younger daughter's wedding. I'm so glad the photographer thought to take this photo. It's one of the best ones we have of Don.
So MOB, just ask your photographer to pull the FOB aside at some point before the ceremony and do an impromptu portrait session. A good photographer can snap three or four great shots before the FOB decides he's had enough. Quick and painless—and you'll end up with a dynamite photo!
*You might also like to read Wedding Day Photo Idea: The Groom and Minister.
*Photo by Flowers Photography