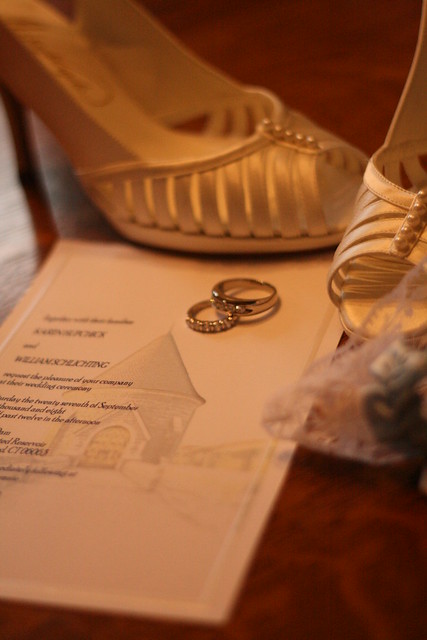 Mother of the Bride, here's a keepsake photo that's easy to forget on wedding day: one that features the invitation. The photographer will take shots of the programs, the tent cards for the reception tables, and place cards for the bride and groom, but if a copy of the wedding invitation is not on hand on the big day, chances are you'll miss getting a professional photo of it.
In the photo above, I love how the wedding invitation is featured along with the bride's rings and shoes. What a beautiful shot capturing these precious elements of a once-in-a-lifetime day!
MOB, don't let the invitation get overlooked. Take a moment right now to add it to the list of shots you'd like the photographer to take. You and your sweet couple will be glad you did!
*You might also like to read Turning the Ordinary into Keepsakes, Add Sparkle to the Bridal Garter, and Craft It: Bridal Keepsake Box.
*For info about my book Mother of the Bride check out my Books/My Work page.
*The next issue of Life Notes, my quarterly inspirational newsletter with a giveaway in every regularly scheduled issue, will come out in early November. Sign-up is FREE. *Temporary problem with Life Notes sign-up. To sign up, just contact me.