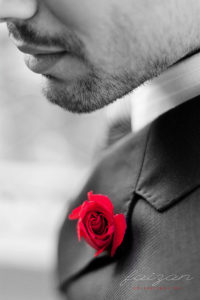 Mother of the Bride, as you help plan your daughter's wedding, I imagine you're spending lots of time focusing on her needs and desires, but don't forget to give attention to the groom as well. After all, he's the other half of the main-event couple in the upcoming celebration of a lifetime. Give thought to how you can make him feel special too.
One way to shine a light on the groom is to ask the photographer to make sure he is the star in some of the wedding photos. It's only natural that the bride in all her wedding-day beauty will be featured in more of the photos, but the groom deserves some limelight too. Whether it's an artsy shot like the one above, a fun shot with the groomsmen, or a thoughtful shot taken in any number of ways, make sure special moments starring the groom are captured too.
Below you'll find a roundup of my Mother of the Bride Blog posts which highlight wedding photo ideas especially featuring the groom. I hope they'll give you and the bride some ideas you can mention to the photographer and spur other ideas as well. Here's to amazing wedding day photos!
A Toast for the Groom and His Guys 
Candid or Private Moment Between Groom and Minister 
Bridesmaids Blow the Groom a Kiss 
*You might also like to read Building a Bridge to the Groom and 9 Easy Ways for the MOB to Bond With the Groom.
*For info about my book Mother of the Bride check out my Books/My Work page.
*The next issue of Life Notes, my quarterly inspirational newsletter, comes out in early May. One lucky subscriber will receive a $15 gift card to Barnes & Noble and a signed copy of my book to use personally, give as a gift, or donate to a library. Sign-up is free and to the right! (If you're on a mobile device, scroll to the bottom of the screen and click View Full Site to find it.)
*Flickr photo by Muhammad Faizon 89, Creative Commons License