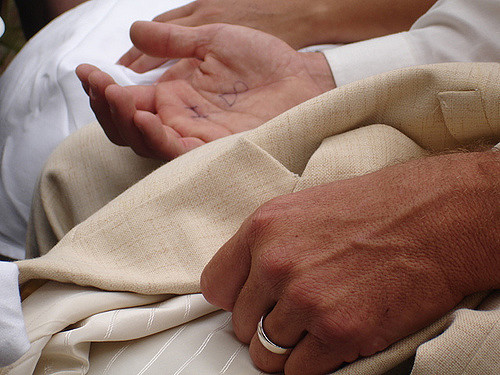 Looking for great wedding day photo ideas, Mother of the Bride? The one I'm sharing today is super cute and features the groom. And yes, even though your mind is focused mainly on the bride, you don't want to forget to focus on the groom every now and then, right?
Look carefully at the photo above and you'll see this groom's cheat sheet, his reminder of the words he needs to speak to seal the deal. What fun, huh? And such a simple shot to set up. Just make sure the best man reminds your soon-to-be son to write the reminder on his hand!
Run this idea past the bride and groom, MOB, and see if it brings some chuckles. If it does, bet you'll have another shot to add to your list for the photographer!
*You might also like to read Wedding Day Photo: A Toast for the Groom and His Guys, Fun Photo Idea for the Groom and Groomsmen, Photo Idea: Bridesmaids Blow the Groom a Kiss!, and Wedding Day Photo Idea: Bridesmaids Hold the Groom!
*Flickr photo by robotson, Creative Commons License