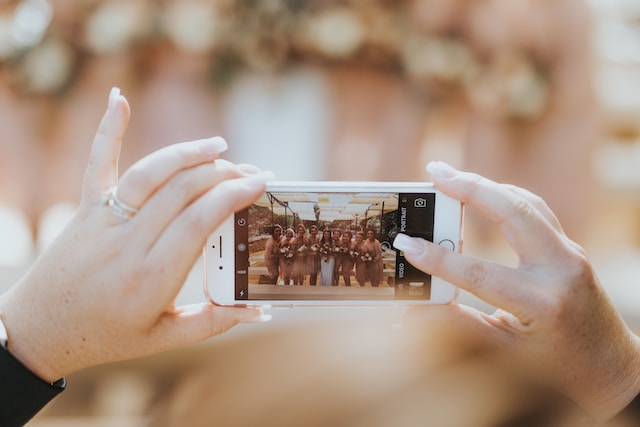 The last thing the Mother of the Bride wants to do during wedding weekend is take photos. Of course, MOB, you'll have a professional photographer for the day of the wedding, but precious photo opportunities will abound all weekend long. Like any sentimental mother, you won't want to miss a single shot, but it's hard to be in the moment and enjoy everything fully if you're busy capturing it all on your camera.
Here's a tip that will free you up not only to live the moments as they unfold but will also take one big responsibility off your shoulders: Ask a family member that's not in the wedding party to be in charge of taking photos at each event the entire wedding weekend. A sister is an excellent choice because she'll probably understand what might be important to you as the mother of the bride. You'll then be able to concentrate fully on carrying out your MOB responsibilities and also enjoy all those once-in-a-lifetime moments as they happen.
Be sure your designated amateur photographer understands the importance of his or her role. Ask them to take shots of anything and everything a devoted MOB would want pictures of—decorating day and all that it entails, the rehearsal and dinner following, the bridesmaids luncheon or other pre-wedding events, moments the extended family spends together, and of course fun shots of the wedding day that your professional photographer might not get. It's always nice to have the day recorded from various vantage points, and your trusty volunteer will make that possible.
And you, Mother of the Bride? Just be in the moment and enjoy!
*For info about my book Mother of the Bride check out my Books/My Work page.
*The next issue of Life Notes, my quarterly inspirational newsletter, comes out in early November. One lucky subscriber will receive a $15 gift card to Starbucks and a signed copy of my book to use personally, give as a gift, or donate to a library. Sign-up is free! *Temporary problem with Life Notes sign-up. To sign up, just contact me.
*Photo by Nathan Dumlao on Unsplash