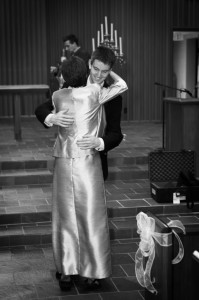 Mother of the Bride, now that your daughter is sporting an engagement ring, you may be wondering how you can develop a closer relationship with your soon-to-be son-in-law. Hopefully you've gotten to know him fairly well during their dating days, but officially becoming part of your family—well, that takes the whole dynamic up a notch, doesn't it?

Never fear, MOB—here are nine easy ways you can bond with the groom:

Spend time with the happy couple—have fun together! This may seem obvious, but with everyone's busy schedules, you may have to be really intentional about spending time together. Don't miss the big dividends this simple step can pay.
Take a genuine interest in his job, his dreams, and his interests. Ask him about these aspects of his life and show him your support in whatever way you can. Praise not only his accomplishments but also his character.
Treat him to his favorite food or restaurant. Make his favorite pie or cake or treat him to his favorite eating spot. Bond over barbecue or steaks.
Include him in family traditions and help him get to know your extended family and friends. Traditions always serve as bond-builders so take advantage of this whenever you can. And as your soon-to-be son gets to know your other loved ones, you'll both feel like he's becoming part of the family. Another benefit is that everyone will feel more comfortable with one another on wedding day and that just adds to the joy!
Become acquainted with his family and include his mom in some aspect of the wedding planning. He will appreciate every effort you make to get to know his family better and will be especially grateful for ways you can make his mother feel included in the biggest event of his life. The better you know his family, the more you'll have in common.
Conspire with him to plan a surprise for your daughter. If he asks your help concerning something he has in mind for the engagement, his wedding gift for her, the honeymoon, or some other surprise he has up his sleeve, welcome the opportunity to be involved. A shared secret is super fun and another great bond-builder. If he doesn't come to you, initiate a surprise of your own for your sweet girl and recruit him to help pull it off.
Ask for his help or advice in his area of expertise. This may or may not have to do with a wedding-related task. The important thing is he will feel affirmed as you seek out his knowledge or skill, and it will also give you a chance to get to know him on a different level.
Pray for him. He may not know you're bonding when you do this, but you will. As you pray for him, you'll feel closer to him and that will naturally manifest itself in all your interactions.
Show excitement about his plans for the honeymoon. He won't tell you all the details, but be happy with him over any little detail he does share with you. Your excitement will boost his confidence and joy and he'll be grateful for your support.
So there you go, MOB—start bonding away! You'll both be glad you did. And your darling daughter will be so happy to see you grow to love and appreciate the love of her life. Definitely a win-win-win!
*Adapted from Chapter 10 of my book Mother of the Bride: Refreshment and Wisdom for the Mother of the Bride.

*The new issue of Life Notes, my quarterly inspirational newsletter with a giveaway in every regularly scheduled issue, came out earlier this month. It's not too late to receive it. Sign-up is free and to the right!
*Photo by Chris Humphrey