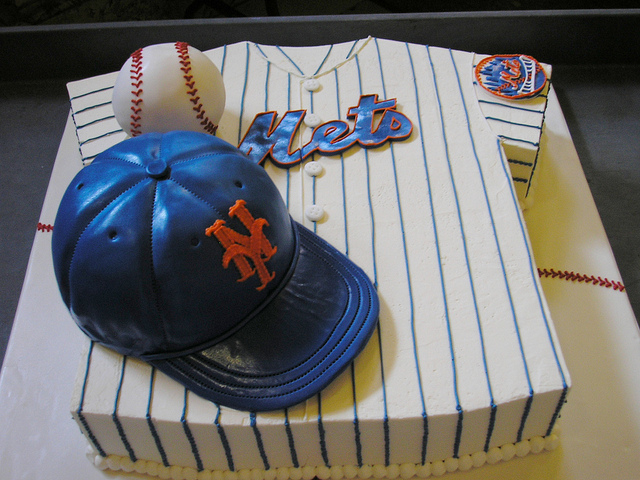 Mother of the Bride, are you and the happy couple talking cakes yet? And more specifically, the groom's cake? If so, this suggestion might help you hit a wedding planning home run if the groom decides to run with it. Do you see a theme developing here?!
If your future son-in-law has a favorite professional sports team, he might love featuring it in some way with his groom's cake. He could request that your cake baker design a team jersey and hat cake (as in the photo above), or he might rather feature the team's mascot or a simply the team's name and logo on a big sheet cake. Or he might have a different idea entirely once you spark his imagination.
So grab the soon-to-be newlyweds, MOB, and show them this idea. The groom may love it—and you will have knocked it out of the park with your suggestion! Fingers crossed for you!
*You might also like to read Groom's Cake Idea: Favorite Team Cake Pops,  Groom's Cake Idea for the Wrestling Fan, Groom's Cake Idea: His Favorite Set of Wheels, Groom's Cake Idea: Law Books (or any other books!), Groom's Cake Idea: Alma Mater Pride, and Groom's Cake Idea: A Chessboard!
*For info about my book Mother of the Bride check out my Books/My Work page.
The next issue of Life Notes, my quarterly inspirational newsletter, comes out February 1st. One lucky subscriber (new or current) will receive a $15 gift card to Starbucks and a signed copy of my book to use personally, give as a gift, or donate to a library. Sign-up is free and to the right! (If you're on a mobile device, scroll to the bottom of the screen and click View Full Site to find it.)