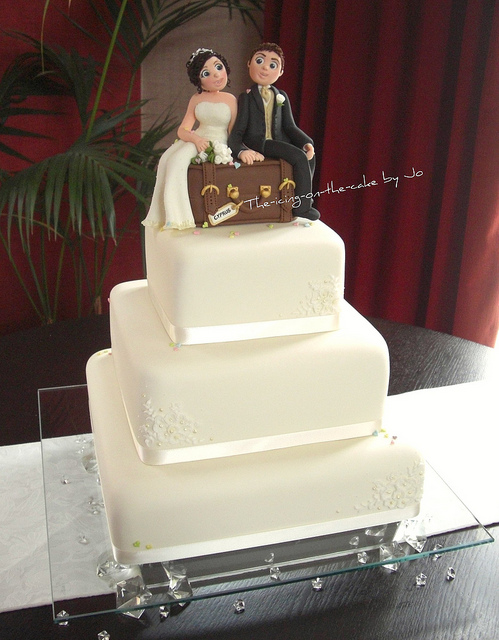 Mother of the Bride, once your daughter chooses the design for her wedding cake, she'll still need to decide what kind of cake stand she'd like to use. And believe it or not, there are several varieties to choose from—everything from silver-plated to acrylic to wood and lots of options in between.
One simple but still beautiful option is a glass stand. Not only does it look classy, but it gives you the opportunity to further add to the presentation of the cake by placing décor of some sort under the glass. Glass crystals are pictured under the stand above, but you could use flowers, pearls, or any number of other items.
You or someone in your family might be able to fashion a glass stand on your own, but your wedding cake designer will have cake stands available to rent too. If your daughter likes the glass option, be sure to ask your designer if she has one available and what the rental price is. Also be sure to search online because you might be able to purchase one for about the same price. Then you'd be able to use it again or sell it and earn back the purchase price.
Of course, glass pedestal stands offer another great option for all sizes of cakes but could work especially well with smaller cakes and cupcakes. See below for one example. You can still scatter decor under this style of cake stand too.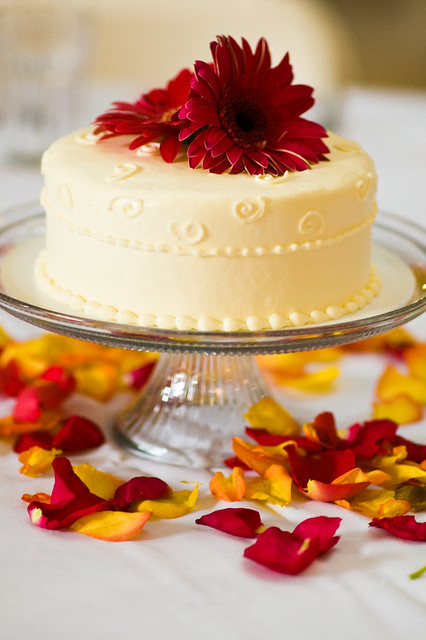 If you'd like to show your daughter other possibilities for cake stands, have her check out these links for more ideas:
etsy.com/market/wedding_cake_stand
pinterest.com/explore/wedding-cake-stands/ 
Get creative, MOB, and have fun brainstorming options with your precious girl!
*You might also like to read Wedding Cake Trend: Multiple Mini Cakes and Cake Table Tip for Weddings: Display Engagement Photo.
*For info about my book Mother of the Bride check out my Books/My Work page.
*The current issue of Life Notes, my quarterly inspirational newsletter with a giveaway in every regularly scheduled issue, came out earlier this month. It's not too late to receive it. Sign-up is FREE. *Temporary problem with Life Notes sign-up. To sign up, just contact me.
*Top Flickr photo by the-icing-on-the-cake. (Jo), Creative Commons License; Second Flickr photo by smcgee, Creative Commons License