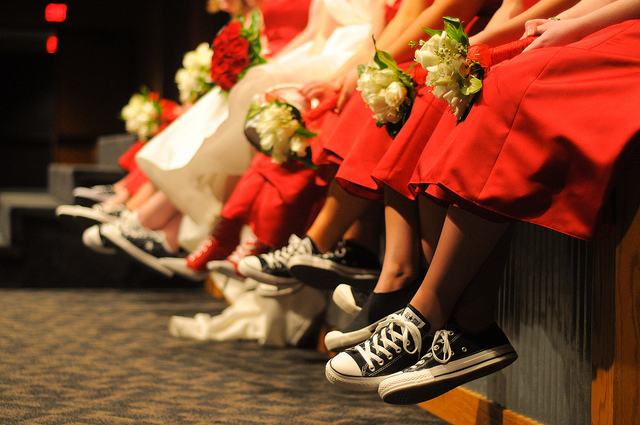 Heels look gorgeous for the wedding ceremony, but when it's time to party, why not break out the sneakers! Just look at the bridal party above. Cute and comfy, too. Those girls look ready for some serious dancing, don't they?
To make it more fun, the sneakers could all be in matching style and color. The example above shows the bride sporting one of the wedding colors and all the bridesmaids in a coordinating color, and that looks super cute for photos and also continues to set the bride apart as special from everyone else.
Mother of the Bride, why not give your daughter this suggestion for her bridesmaids? After all, when it's time for everyone to let their hair down and party, they might as well let their feet get down in comfy territory, too!
*And just for you, MOB—read this post about comfy shoes for you!
 *The current issue of Life Notes, my quarterly inspirational newsletter, came out last week. It's not too late to receive it. Sign-up is free and to the right!
*Flickr photo by soundman1024, Creative Commons License