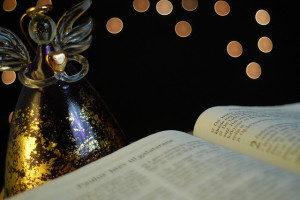 Today's the day to announce the winner of the Little Christmas Warmth Giveaway—yes, time to make someone a little warmer! The lucky winner who will soon be wrapping her cold hands around a luscious hot drink from Starbucks is . . . Tamra! Congrats, Tamra! I'll dash to my mailbox as fast as I can (without a one-horse open sleigh!) and send the gift card on its way. Hope it makes your holiday season a little merrier!
For all of you dropping by today, I'd like to pass along the best holiday joy I know by sharing my favorite Christmas verses from the Bible. I love reading all of the passages related to the birth of Jesus, but the verses below have become my favorites. May God's Word bless you today, friends!
"For unto us a child is born, unto us a son is given: and the government shall be upon his shoulder: and his name shall be called Wonderful, Counsellor, The mighty God, The everlasting Father, The Prince of Peace." Isaiah 9:6 KJV
"'The virgin will be with child and will give birth to a son, and they will call him Immanuel'—which means, 'God with us.'" Matthew 1:23
"And the angel said unto them, Fear not: for, behold, I bring you good tidings of great joy, which shall be to all people. For unto you is born this day in the city of David a Saviour, which is Christ the Lord." Luke 2:10-11 KJV
"The Word became flesh and made his dwelling among us. We have seen his glory, the glory of the One and Only, who came from the Father, full of grace and truth." John 1:14
A child. A son. A Savior. The Word. The One and Only. Amen and amen!
*Which of these verses speaks to you in the most powerful way?
*Flickr photo by sakarias.ingolfsson, Creative Commons License