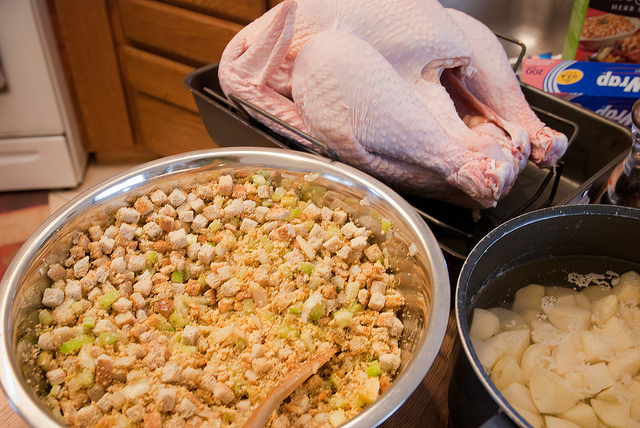 I don't know what it is about autumn, but it always makes me want to share a recipe with you. Since I'm all about refreshing spirits and nourishing souls, recipes don't take the stage here very often, but doggone it, a yummy dish of some sort can go a long way to refreshing our spirits, can't it?
With Thanksgiving just around the corner and with memories of my mom especially dear to me (we lost her one year ago on Oct. 21st), I'd like to share her Old Fashioned Dressing recipe with you. It definitely qualifies as comfort food for me because it reminds me so much of Mom. But for you, even without the memories, it will make a super delicious side dish for your Thanksgiving or Christmas turkey.
So here's an autumn gift from my mom to me to you—my mom's recipe for dressing:
Old Fashioned Dressing (from the kitchen of Charlene Hoy)
3 1/2 C breadcrumbs
3 1/2 C cornbread crumbs
1 C chopped onion
2 C chopped celery (saute celery and onion)
2 tsp salt
1/2 tsp pepper
1 1/2 tsp sage
1/2 tsp poultry seasoning
2/3 C melted margarine
1 1/3 C milk
1 1/4 C turkey broth
2 eggs slightly beaten
Combine crumbs, onion, celery, and seasonings. Add margarine, milk, broth, and eggs tossing lightly to blend. Stuff loosely into turkey cavity or spread into greased casserole. Bake for 1 hour at 325 degrees. Yield stuffing for 12 pound turkey.
Hope you enjoy this gift handed down from Mom!
"'Freely you have received, freely give.'" Matthew 10:8b
*What's one of your favorite dishes for Thanksgiving?
*Flickr photo by ldrose, Creative Commons License
*The Life Notes Subscriber Appreciation Giveaway is underway. Details are in my Oct. 16 post and sign-up is to the right under "Free For You." Deadline is 6 p.m. Nov. 12. Don't miss out on the chance to win a $25 gift card to Barnes & Noble!