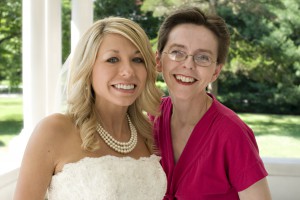 *Update Feb 2019: In order to free up some of my time, I'll be posting only on the first and third Tuesdays of each month. By now, lots of great help and ideas are available in the Archives. Just click on the drop-down menu to see the titles of posts that interest you or use the search feature to look for posts by topic.
Calling all mothers of the bride—this blog is for you! You deserve every bit of help and encouragement that I—a two-time mother of the bride, an MOB veteran—can give. Why? You're the mainstay, the troubleshooter, and the chief soother of frazzled nerves in your daughter's wedding planning whirlwind. And you need an ally!
Every Monday and Thursday, I'll offer posts designed just for you—the MOB. Whether tips or advice, ideas or examples, links and resources, or refreshment and encouragement, my goal will be to help you as you walk with and assist your daughter on one of the most exciting journeys of her life—her journey as a bride.
Let's not waste a second getting started. My first tidbit of advice:
Take your cues from your daughter concerning how much help you need to provide. Some brides-to-be will want to do most everything on their own while others will either need or desire as much assistance as you can give.
Both of my girls wanted and appreciated having me as a partner in their planning. Still, I had to be alert to overstepping boundaries and be ready to tailor my input and involvement to the level they desired at any given time.
So as you settle into your role, remember above all that this is her wedding. Your role as the MOB is to stand ready to support her. Not much different from all aspects of mothering, huh?
*To see more great tips, info, and encouragement, visit the Mother of the Bride Blog home page.
*Update: For info about my book Mother of the Bride check out my Books/My Work page.
*Update: *Life Notes, my quarterly inspirational newsletter, offers a giveaway in every regularly scheduled issue. Sign-up is FREE and to the right! (If you're on a mobile device, scroll to the bottom of the screen and click View Full Site to find it.)
*Photo by Will Flowers