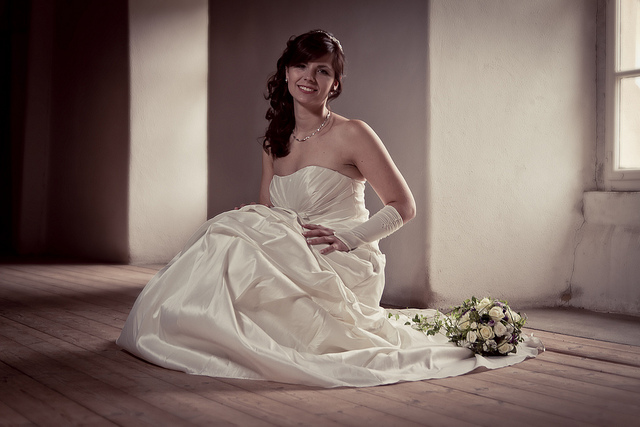 Mother of the Bride, are you gathering some ideas for special bridal portrait shots of your sweet girl? Your photographer will have lots of great ideas, but most will welcome input on any particular shots you or the bride would like to capture. Whether taken during a special bridal portrait session or during the hours preceding the ceremony on wedding day, you'll want lots of amazing shots of your gorgeous daughter-turned-bride.
Today's bridal portrait idea features the bride seated near the floor with her bouquet displayed on the gown's train. I don't particularly care for the darker tones used in the photo above, but at least it gives you an idea of what a shot like this could look like. I like to imagine it in a prettier setting with more light and color in the shot. This particular shot would, of course, work best on wedding day so you wouldn't have the expense of a bouquet on a separate day.
Of course, you can use this idea as well as a springboard for other photo ideas of the bride seated.  She could be seated on steps, on a fancy loveseat, or even on the floor or grass outside—all with her gown extended all around her, of course, for spectacular effect.
Why not run these suggestions past your daughter, MOB, and see if any of them appeal to her. If so, add the idea she likes best to the list you're making for the photographer. Your little bride-to-be will be grateful for your help
*You might also like to read Bridal Portrait Idea: A Shot with Mom, Bridal Portraits: Include Some Artsy Shots, Bridal Portrait Idea: Windows Plus Great Light, Bridal Portrait Idea: A Mirror Shot, Bridal Portrait Idea: Watching for the Groom, and Bridal Portrait Idea: A Stairway Shot.
*The next issue of Life Notes, my inspirational newsletter with a giveaway in each quarterly issue, comes out in early May. One lucky subscriber (new or current) will receive a gift valued at $20 (shipping included) from Beigetone Soaps and a signed copy of my book to use personally, give as a gift, or donate to a library. Sign-up is free and to the right! (To be included in this issue's giveaway draw, you must sign up by noon on Saturday Apr. 29.)
*Flickr photo by galeria_stefbu, Creative Commons License