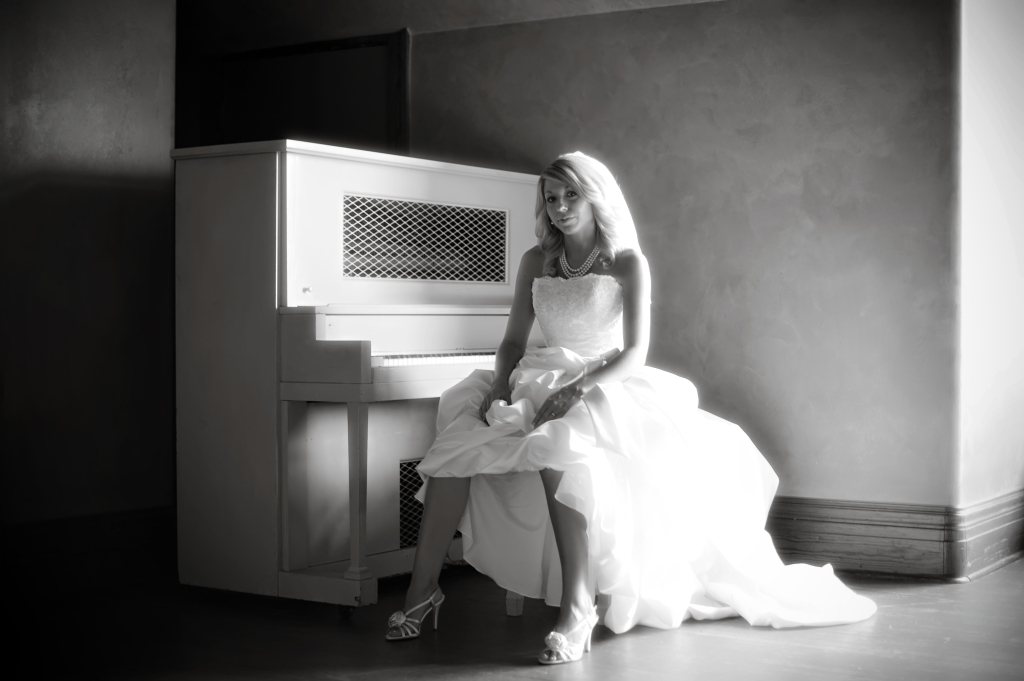 Classic bridal portraits are among some of the most beautiful you'll ever have of your daughter, Mother of the Bride, but to jazz things up a little, make sure some artsy shots are taken, too.
Check with your daughter and see if that sounds good to her and ask if any specific ideas come to mind. Don't fail to jot them down. You know how important lists are to the MOB brain!
Let your photographer know that you'd like some artsy shots included in the bridal portrait shoot—don't expect him or her to be a mind-reader. Ask him to check out the bridal portrait venue when he arrives, looking specifically for spots where artsy shots could be taken. If he is familiar with the venue, he may already have some tricks up his sleeve where artsy shots are concerned. The shot above with the piano was perfect for my daughter Kelli since she can play piano.
Encourage the photographer to have fun with black and white and other filters to see what cool effects can be achieved. Even the slightest variation in color intensity can make a big difference in a finished photo.
So MOB, suggest adding artsy to classic at the bridal portrait shoot. Everyone will be glad you did!
*You might also like to read Bridal Portrait Idea: Fun with Sunglasses, Bridal Portrait Idea: A Mirror Shot, Bridal Portrait Idea: Windows Plus Great Light, and Bridal Portrait Idea: Watching for the Groom.
*Photo by Will Flowers