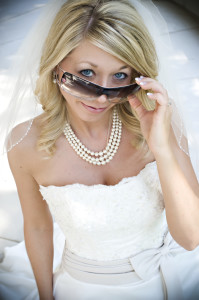 Mother of the Bride, here's a fun and unique idea for your daughter's bridal portrait session—say it with sunglasses! No words needed. Just a look from behind her shades, and the groom—and everyone else—falls in love with her all over again, huh? What fun!
Just look at that expression in the photo above. What do you think the bride might be saying with those eyes and that smile? Something sweet? Something sassy? Something seductive? I'm guessing it's a combination—the perfect snapshot of any bride's personality.
MOB, if your daughter wants to do something unexpected and have some fun during her bridal portrait photo shoot, be sure to have a pair of sunglasses on hand. The resulting photos will definitely become keepsakes—in the photo album and in your heart!
*You might also like to check out these bridal portrait ideas: The Mirror Shot and Watching for the Groom. You can also find some great ideas for bridal portrait shots and wedding shots on my Pinterest Wedding Photography Ideas board. 
*The new issue of Life Notes, my quarterly inspirational newsletter, came out earlier this week. It's not too late to receive it. Sign-up is free and to the right!
*Photo by Will Flowers