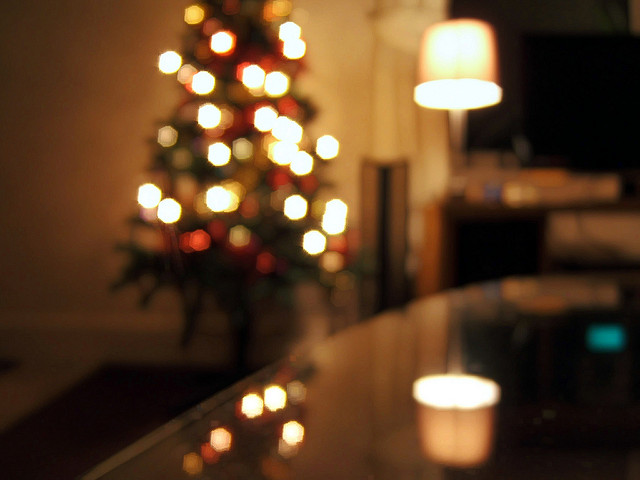 December dawned a few days ago, but is it possible during this "most wonderful time of the year" that we're actually feeling a teensy bit of stress? I'd say not only possible but probable—and not only a teensy bit but a pretty big chunk. A chunk that seems to grow, in fact, as the days tick past on the calendar.
If ever there's a month where my blog series on stress busters appropriate for each month is needed, December has got to be it. So let's get right to it. May the following stress busters prove to be an early Christmas present for you, my friends!
December Stress Busters 
Take some time each day—even if just two or three minutes—to sit and gaze at your Christmas tree. Take a deep breath, relax your body, and enjoy your tree—the beauty, the nostalgia that Christmas invokes, and the sense of joy and worship that Christmas trees have a way of inspiring.
Plan for simple meals. Fix one meal for dinner each week that will be enough for at least two nights then throw in a night of take-out and go out to dinner once as well. Give yourself a break where you can.
Don't just listen to Christmas music—sing along. I'm willing to bet it's impossible to stay all balled up in stress if you're actually singing the words to your traditional Christmas favorites. Sing while you wrap presents, do laundry, or bake for the holidays. And sing the carols of Christmas during your personal worship time. It will add a whole new dimension of joy and peace to your celebration of Christmas.
Hire a young teen to wrap your Christmas presents. You won't have to pay as much and the teen will be glad to earn some extra spending money. And as you reduce your work-load, your stress will shrink as well.
Set aside one night each week to watch one of your favorite Christmas movies. Not only will this give you some extended relaxation time, but it will provide a full-circle kind of contentment as you participate in one of your well-loved traditions.
Enjoy the lights of Christmas—both candlelight and twinkling lights. Candlelight is always soothing but seems to take on an extra measure of beauty and peacefulness during Christmas. And the twinkling lights of Christmas? Get outta here. Be sure to go on a light-looking adventure one night and your stress will get lost along the way.
Read Twas the Night Before Christmas and other classic Christmas books and stories to a child. Stress can't reign if you're sharing the magical and wonder-filled joy of Christmas with one (or some) of your favorite littles. And if children aren't in your holiday picture, read aloud to yourself and slip back in time for some Christmas nostalgia.
So there you have it, friends—some ways to trade your stress for joy and peace this holiday season. And remember, over all these methods and any others you may employ, our best stress-relief can be found in spending time with and worshipping the Savior whose birth we celebrate. Come and adore him and you'll find your stress melting away!
"In him was life, and that life was the light of men." John 1:4
*Which of these stress-busters will you use this holiday season? What else can you add to the list?
Have you subscribed yet to Life Notes, my quarterly inspirational newsletter with a giveaway in every regularly scheduled issue? If not, sign-up is FREE and to the right! (If you're on a mobile device, just scroll to the bottom of the screen and click View Full Site to find it.)
*Flickr photo by Jonathan Stonehouse, Creative Commons License