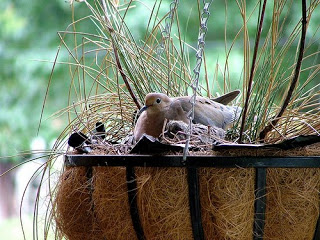 In honor of all things spring and beautiful, how about a "Feather Your Nest" Giveaway to help spruce up your home? One lucky person will — get ready for this — win a $20 gift card to Pier 1! Fun stuff, huh? :)
Everyone who leaves a comment on this post by noon (CST) May 8 will be included in the drawing. If I don't know you personally or can't contact you via your own blog, you must include your email address in your comment to be eligible for the giveaway.
For fun, tell me what you're looking for right now to spruce up your home. Do you need some spring or summer placemats or some fun new dishes? Or maybe you have major items or projects on your mind. Whatever it is, tell me what you'd like to do to feather your nest sometime soon.
Me? I could use some new drinking glasses, but we are also in need of new living room furniture — a couch and two chairs, to be exact. Our couch has seen better days (and lots of them!) so it's just time for an update. Luckily, Don and I want some of the same features in a couch, but finding the time to shop for one will be the trick (always an out of town trip for us). Since we tried last fall and didn't get the job done, I'm trying not to worry about it now and, instead, trust the Lord to lead us to what will be best for us.
Do you have some needs that are weighing on your mind? Remember, God is concerned about the everyday matters in our lives as well as the bigger issues we face. Yes, that's right — we can even take our home and clothing needs to Him in prayer!
So go ahead, tell the Father what you need. He stands ready to provide!
"…'do not worry about your life, what you will eat or drink; or about your body, what you will wear… Look at the birds of the air; they do not sow or reap or store away in barns, and yet your heavenly Father feeds them. Are you not much more valuable than they?

… And why do you worry about clothes? See how the lilies of the field grow. They do not labor or spin. Yet I tell you that not even Solomon in all his splendor was dressed like one of these. If that is how God clothes the grass of the field, which is here today and tomorrow is thrown into the fire, will he not much more clothe you, O you of little faith?" Matthew 6:25a, 26, 28-30

*The next issue of Life Notes, my quarterly inspirational newsletter/ezine will come out next week. If you're not already receiving Life Notes, sign-up is free and to the right!

*Flickr photo by AnnCam