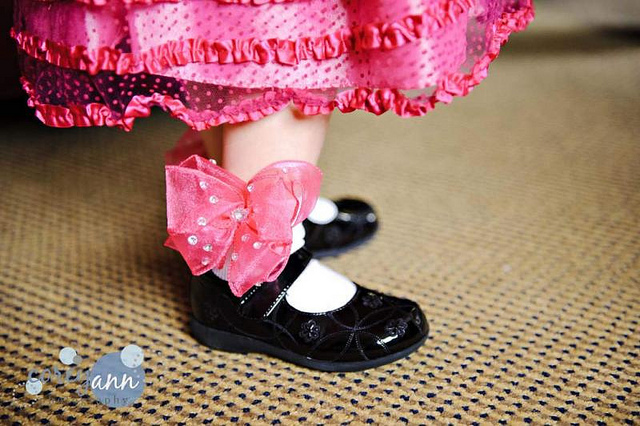 Mother of the Bride, has your little girl turned bride given any thought yet to her flower girl's attire? Flower girl dresses are always so sweet, but adding the right accessories can take her attire up to a whole new level of adorable.
For example, why not dress up the flower girl's socks with darling bows in the color of her dress? The bows can be made from any kind of ribbon from your favorite craft or fabric store, but notice how in the photo above the bow is made with sheer ribbon to match the fabric style of the dress. They are then further dressed up with tiny rhinestones. That attention to detail makes for perfection, doesn't it?
If you're not talented at making bows (I'm not), ask around. I bet one of your friends or the bride's friends is a whiz at it and will be happy to help. In fact, she might even offer—or be persuaded—to make other bows you may need as décor. You never know unless you ask, right?!
So check with the bride, MOB, and see what she thinks about adding this extra touch of preciousness to her flower girl's attire. I bet she—and the flower girl—will love it!
*You might also like to read Wedding Photo Idea: Flower Girl with the Bride's Shoes, Wedding Décor Tip: Adorn the Church with Pew Bows, and Attention to Detail.
*Flickr photos by Corey Ann, Creative Commons License