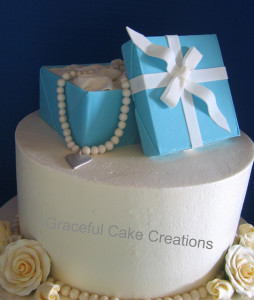 Mother of the Bride, is your daughter making decisions about the wedding cake yet? So much to think about. Along with flavor, type of frosting, and style, decisions will need to be made about the specific design.
One of those design decisions will be what kind of cake topper she would like or what would best complement the design she chooses. Would fresh flowers look best? Would some sort of fun topper work with her cake and match her and her guy's personality? Or would a classic and elegant topper like a silver monogram or entwined hearts be the perfect choice?
Be sure to add today's idea—a Tiffany gift box—to the list of possibilities. The world-famous Tiffany jeweler is known for their Tiffany Blue Box so wouldn't this age-old coveted gift box be a beautiful yet fun topper for a wedding cake?
The example above shows the box propped open with a strand of pearls displayed, but if your daughter has a different idea on how to feature a Tiffany Blue Box as the topper, just have her talk to her baker/designer. Chances are the baker will be able to do whatever she requests.
So MOB, show this idea to your daughter—and maybe even the Father of the Bride. Drop a hint or two and you might just end up with a Tiffany Blue Box yourself!
*You might also like to read Groom's Cake Toppers for the Hunter.
*The next issue of Life Notes, my quarterly inspirational newsletter, comes out next week. Sign-up is free and to the right!
*Flickr photo by Graceful Cake Creations, Creative Commons License