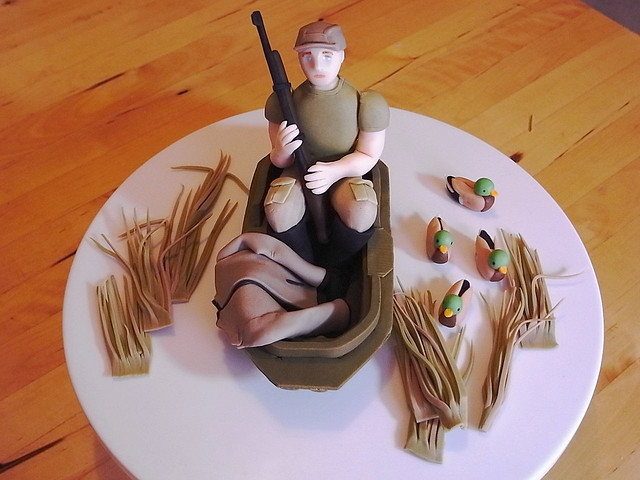 Mother of the Bride, does your daughter's intended enjoy hunting? If so, why not suggest a hunting-inspired groom's cake topper to reflect his outdoorsy nature?
The groom's cake topper above features a duck hunter, but with a little creativity, your baker/cake designer could come up with any number of hunter variations. She could put your son-in-law to be in a deer stand, have him calling a turkey, or flushing quail or pheasant with his bird dog. Whatever his hunting preference, I'm sure a topper can be made to accommodate it.
So score some points with your huntsman son-in-law-to-be, MOB, and suggest his cake feature a weapon of some sort! :)
*You might also like to read Groom's Cake Idea: Alma Mater Pride and Groom's Cake Idea: Law Books (or any other books!). Also be sure to check out my Groom's Cake Pinterest board.
*The new issue of Life Notes, my quarterly inspirational newsletter, came out earlier this week. It's not too late to receive it. Sign up is free and to the right!
*Be sure to enter the Steaming Hot Valentine's Day Giveaway over on my home page! Deadline to enter is 6 p.m. Feb. 11.
*Flickr photo by bittle, Creative Commons License