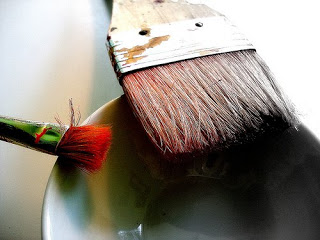 Somebody's nest just got a little boost. That's right—we've got a winner for the "Feather Your Nest" Giveaway! The Pier 1 gift card goes to Nanette (Mom Never Stops)!! Congratulations, Nanette! Have fun feathering your nest with a little something from Pier 1!
I could tell from the comments left on the giveaway post that many of you have some sort of home improvement on your minds. I can't make all of those wishes come true (darn!), but instead, I'd like to offer you some tips for home improvement straight from the Word of God. Nobody knows how to feather a nest better than our Creator Himself, right?
So let's try applying the following scriptures to our lives. If we follow their wisdom, we'll soon spruce up our homes—and our hearts—from the inside out. See if you agree:
"Above all, love each other deeply, because love covers over a multitude of sins." 1 Peter 4:8
"Submit to one another out of reverence for Christ." Ephesians 5:21
"Bear with each other and forgive whatever grievances you may have against one another. Forgive as the Lord forgave you." Colossians 3:13
"…always try to be kind to each other and to everyone else." 1 Thessalonians 5:15b
"Therefore encourage one another and build each other up, just as in fact you are doing." 1 Thessalonians 5:11
I don't know about you, but I see some things I could work on. I know this is just a start, though. What would you add?
*Flickr photo by Fran Ulloa, Creative Commons License
*It's not too late to receive the current issue of Life Notes, my quarterly inspirational newsletter. Sign-up is free and to the right!