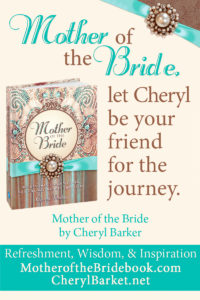 The official launch day for my book Mother of the Bride is finally here! The book has been available in limited supply on online sites already, but with the arrival of July 1st, it will now be widely available both online and in stores. I'm so excited!
To celebrate the launch of my dream come true, I'm doing a giveaway for a signed copy of the book as well as some other special treats. See all the details and enter on my home page giveaway post by noon CST July 20th, and I will announce the winner in my July 21st posts on both blogs.
Also, fyi, I won't be posting here again until July 21st. I want to leave this post front and center for a while so everyone will have a chance to see it and enter the giveaway. I will also be taking a trip with my sisters—something  we planned long before I knew the launch date for my book—so I want to concentrate on enjoying that special time with them. In the meantime, scan the blog post titles in the archives to find just the help you might be looking for right now, MOB. You will find a wealth of ideas, tips, and advice there.
But first, MOB, head on over to my home page and enter for your chance to win a copy of Mother of the Bride. If you don't happen to win, you'll have to be sure to treat yourself to a copy. I hope it will be a wonderful encouragement, help, and blessing to you!
*See sidebar for links to buy the book!