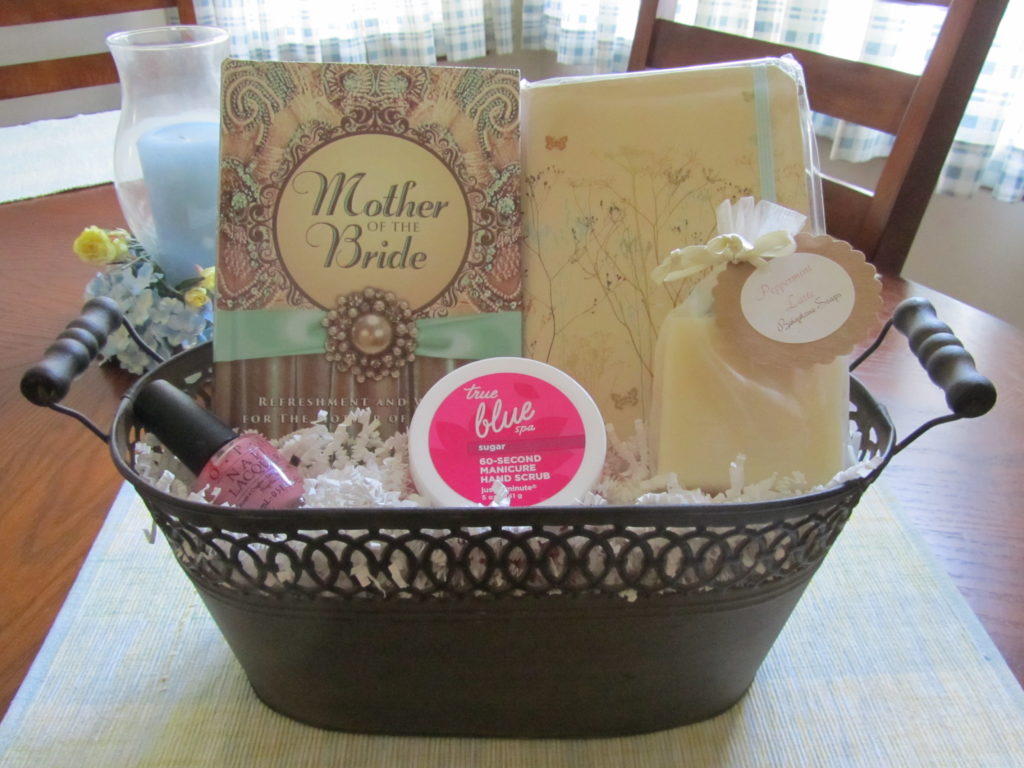 The official launch day for my book Mother of the Bride is finally here! The book has been available in limited supply on online sites already, but with the arrival of July 1st, it will now be widely available both online and in stores. I'm so excited!
To celebrate the launch of my dream come true, how about a super fun giveaway? The winner will receive a signed copy of the book as well as some other special gifts—a to-die for Peppermint Latte bar of Beigetone Soap (hand-made by my friend Nancy Douglas), a jar of True Blue Spa 60-Second Manicure Hand Scrub from Bath and Body Works, a bottle of OPI Nail Polish in the Hawaiian Orchid shade, a beautiful Butterflies Journal by Peter Pauper Press, and also the decorative container pictured above. You certainly don't have to be a mother of the bride to win this giveaway, but I've designed it in honor of all mothers of the bride out there who deserve to be pampered in the midst of all their wedding planning.
But first, here's a brief description of Mother of the Bride:
Mother of the Bride will help MOBs step away from the hurried pace of daily life complicated by a demanding new role. It will offer them the refreshment found in discovering community as they take time for themselves time to be encouraged, to gain helpful insight and practical tips, and to enjoy the feminine beauty of a book designed just for them.
Through essays featuring relevant quotes or Scriptures, personal stories, nuggets of wisdom, simple suggestions for personal pampering, journaling opportunities, communication aids, and practical tips for wedding planning, Mother of the Bride will nurture the all-important but too often neglected mother of the bride.
Mother of the Bride is the perfect gift and resource for mothers of the bride. The vendor worksheets alone (found at the back of the book) are themselves worth the price of the book. Why not make it your go-to gift for mothers of the bride you know—both now and in the future!
You may buy the book on Amazon, Barnes & Noble, and Christianbook.com, and it will be available in bookstores as well. To find out more about the book, check out MotheroftheBrideBook.com.
*****
Now for the giveaway. Here's how it will work:
*1 entry for leaving a comment on this post here on my website. The ones on Facebook are greatly appreciated, but to be entered in the giveaway, you must leave a comment here.
*2 entries for Liking my Cheryl Barker, Writer Facebook page (tell me in the comments.) If you've already Liked the page, just say so. That definitely counts!
*3 entries for sharing the giveaway on Facebook or Twitter (tell me in the comments and include the link where you shared.)
*4 entries for subscribing to Life Notes, my free quarterly inspirational newsletter (tell me in the comments but be sure to confirm your subscription when you get a confirmation email.) Sign-up is to the right under "Free For You". If you're already a Life Notes subscriber, you bet that counts. Just mention it in your comment.
*Giveaway is open to US residents only due to customs and mailing costs.
*Drawing will be done by Random.Org.
Enter by noon CST July 20th, and I will announce the winner in my July 21st posts here and on my Mother of the Bride Blog as well.
I won't be posting here again until July 21st. Yes, that's a long blogging break, but I want to leave this post front and center for a while so everyone will have a chance to see it and enter the giveaway. Plus, I will also be taking a trip with my sisters—a first for us!—so I want to concentrate on enjoying that special time with them. In the meantime, why not enjoy some of the inspiration and encouragement found in previous posts? Look under Favorite Posts to the right for some posts you might especially enjoy.
And now, good luck to everyone! I will see you here again on July 21st!