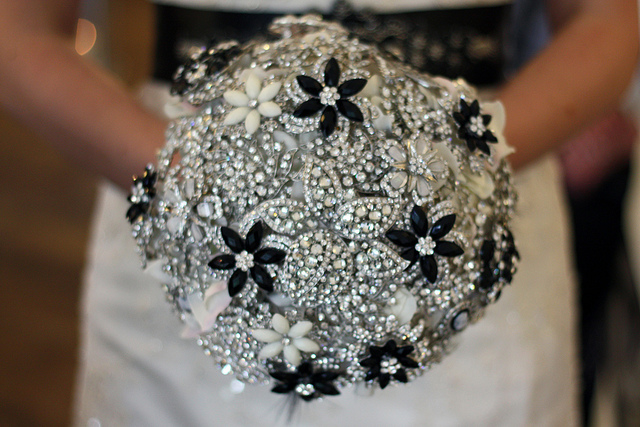 Mother of the Bride, here's a brilliant (in more ways than one!) idea for the bride's and bridesmaids' bouquets—use brooches! If your daughter wants a look that sparkles or stands out from the ordinary in some way, beautiful brooch bouquets may be just what she's looking for.
I've pictured several styles in this post so you can see how versatile this idea can be. The bride might want to go with a clean elegant look that blends in with her white dress (as pictured above). Or she might want to take the more colorful approach you can see in the photos below. She might even want to go super casual and fun, as in the last photo. And, of course, you can see how easy it would be to color coordinate brooch bouquets to match the bridesmaids dresses.
A brooch bouquet also affords the idea to include a memento or memory of a loved one. Notice in the photo just below that a portrait brooch is attached to the bouquet's stem in honor of a special loved one who can't be present. A brooch that has been passed down through the family or that has been given to the bride as a special gift can also easily be incorporated into the bouquet.
And just think of the possibilities for the bouquet after the wedding. The bride could keep it as a gorgeous memento from the big day, or it could be taken apart so the brooches could be worn or even given as special gifts.
What do you think, MOB—it's an idea worth showing your daughter, isn't it? Hope you have a sparkling wedding day!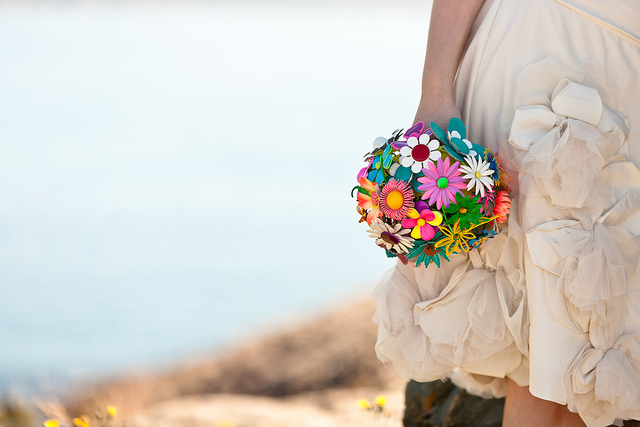 *You might also like to read Fall Wedding Bouquet Idea , White or Cream Bridal Bouquet: Add a Touch of Color, Bridal Bouquet Idea: Add Some Sparkle with Gemstones, and Wedding Décor: Craft It with Paper.
*From top to bottom: Flickr photo by arripay, Creative Commons License ; Flickr photo by emperialduo, Creative Commons License; Flickr photo by MsSaraKelly, Creative Commons License; Flickr photo by KristaCarolynG, Creative Commons License