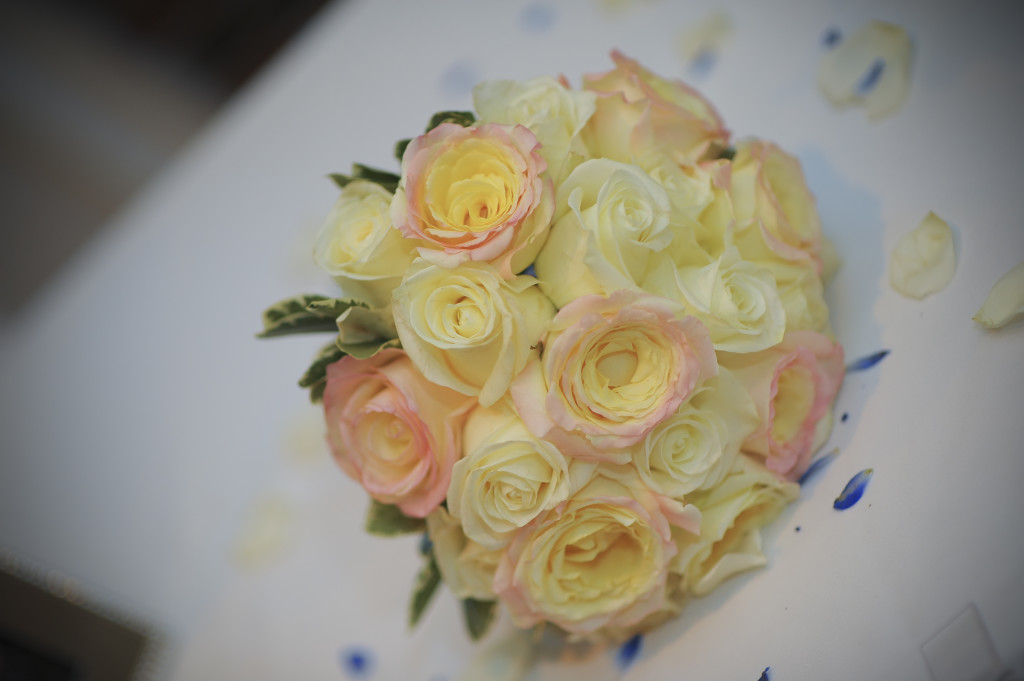 Mother of the Bride, does your daughter know what kind of bridal bouquet she'd like yet? She might be a little overwhelmed with all of the possibilities out there. Should she go with vibrant color or a shade of white or cream to blend with her dress? Roses or a mix of blooms? A hand-held stem bouquet or a cascade design?
If she loves the white or cream-colored rose option (always beautiful!), suggest this tip our florist gave us for my daughter Kelli's bouquet: add just a hint of another soft color. For example, like in the photo above, incorporate just a few roses that have a pale pink edge but with a center color that blends with the color of the primary roses.
Isn't it amazing how the lightest touch of color can make a bouquet even more distinctive and beautiful? And just think how gorgeous the photos will be. Give your girl this suggestion, MOB—you'll both be glad you did!
*You might also like to read Bridal Bouquet Idea: Add Some Sparkle with Jewelry.
*Photo by Flowers Photography
*Take Note: I've changed my comment system to make it easier for some of you who have had trouble with or don't care for the Disqus comment system. Give it a try now. Hope this helps!
 *The next issue of Life Notes, my quarterly inspirational newsletter, comes out the first of August. Sign up is free and to the right!