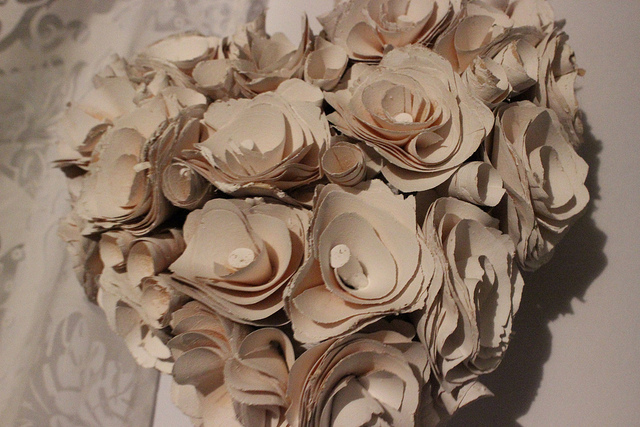 Thinking of making some of your own wedding décor, Mother of the Bride? Why not craft it with paper?
Since roses and weddings go together like tea and crumpets, paper roses would add a beautiful touch to any wedding celebration. The classic whites, creams, blushes and beiges will work with almost any color scheme, but gorgeous roses in the specific colors of your daughter's wedding will add the perfect splash of color.
Roses, of course, aren't the only flowers that crafters can create. Take a look at this post from Paper and Lace: 10 of the Best Paper Flower Tutorials.  (Notice the two different links – the first for the home page and the second for the actual tutorial.) You'll be amazed at how beautiful the flowers look. Also check out brand new book Paper to Petal: 75 Whimsical Paper Flowers to Craft by Hand by Rebecca Thuss and Patrick Farrel. You can purchase it on Amazon or Barnes & Noble.
Paper luminaries for candles are another creative idea for weddings. On this Martha Stewart The Bride's Guide post, you'll see not only paper luminaries but also delicate paper grasses that look amazing in varied sizes of white vases.
I bet these ideas are enough to get your Mother of the Bride-creative-wheels turning. So how about it? Anyone ready to go out and stock up on paper? :)
*What are some other ideas for crafting it with paper for a wedding?
Flickr photo by kilted01