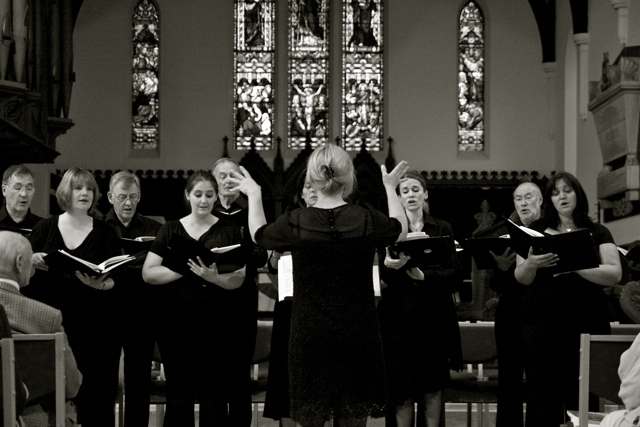 Remember when I confessed to being a choir junkie? Well, after forty years of singing in one choir or another, this old choir junkie has a challenge ahead. Our director at church has given us new marching orders: "Memorize the Christmas musical."
Yes, an entire musical—and most of the songs are new to us. Yikes, right?
So why is she putting us Wednesday night warblers through such tough new paces? This year the musical has drama as well. The actors will be lit with spotlights, but the choir will be in the dark. And darn it all, that makes it impossible to rely on our music for words and notes. We'll need to rely on our memories instead. For some of us, that may be more of a problem than others :)
Memorizing the musical will definitely be a challenge for all of us. We'll need extra practices, I'm sure, and we'll each need to listen to the cd and practice at home as we have opportunity. This is when a daily commute to work could come in handy, right? However we manage it, it will mean extra effort for everyone.
The group aspect of the challenge makes it a little less daunting, though. There's comfort and camaraderie in knowing that we're not in this thing by ourselves. We can encourage one another and even have fun together moaning about our mess-ups. And I remind myself that at no point, believe it or not, will I be asked to sing this entire musical from memory by myself :)
When I forget my words or my notes (I'm an alto), I'll need only to listen to those around me. Chances are, someone else will remember what I forget—and vice versa. I'll be a help from time to time to someone else who has a memory glitch. We'll work together, and our sense of teamwork will stretch and grow as never before as we face this musical challenge together.
Are any of you working on a group challenge right now? Whether now or during a future task, let's remember that we're not in it alone. Let's lean on one another. Let's be the strength to each other's weakness.
"Two are better than one, because they have a good return for their work: If one falls down, his friend can help him up. . ." Ecclesiastes 4:9-10a
*Flickr photo by Richard 'Tenspeed' Heaven, Creative Commons License
*The Life Notes Subscriber Appreciation Giveaway is coming soon. All current and new subscribers will be eligible to win! Sign-up is free and to the right.