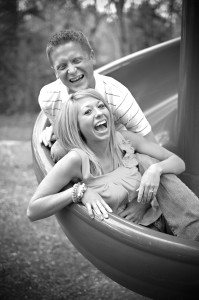 Mother of the Bride, here's a great engagement photo idea if your daughter and future son-in-law are a playful and fun-loving couple: a little playground fun! Not every couple would enjoy this adventure or look natural in the shots, but you know your girl and her guy—could they pull it off?
My daughter Kelli and her love Jake pulled off playground shots with ease. If there's adventure or fun to be had, they're right in the middle of it. If your sweet couple lives life likewise, have your daughter suggest playground shots to their photographer.
Slipper slides or swings, monkey bars or rope swing, whatever is handy will do. Be sure to request shots in both color and black and white. Sometimes black and white takes a photo to a whole new level of awesome.
So MOB, pass along this super-fun idea. Bet it will wind up on the photo table at the reception!
*Here's another winning engagement photo idea—Frame That Moment! You might also like to check out my Engagement Photo Ideas Pinterest board.
*Photo by Will Flowers
*Would you like to subscribe to my blog so you won't miss any posts? Find the email sign-up and RSS button to the right!