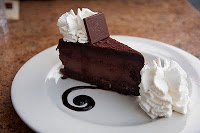 How about continuing our celebration of spring with a yummy-licious "To Die For" Giveaway?! In honor of the upcoming Mother's Day holiday, I have a $15 Cheesecake Factory gift card to give to one lucky R&R reader. That's right — Cheesecake Factory!
All you need to do to enter is answer the following question by leaving a comment on this post by noon (CDT) May 6th. If I don't know you personally or don't already have your contact info, you must include your email address in your comment to be eligible for the drawing. And now for the question: What is your favorite restaurant/dessert shop dessert?
Don't like dessert or don't have a Cheesecake Factory near you? I'm sure you know someone who does. If you win, you can make someone's day — or week or year! — by passing it along. (By the way, area folks, there's a CF in Tulsa now.) Hopefully, I'll be able to get the gift card to the lucky winner by Mother's Day so you can use it as a Mother's Day gift if you'd like…or hey, moms, treat yourself to this gift :)
As usual, I'll kick off the giveaway sharing, but I have a confession to make first. Prepare to be shocked — I don't like cheesecake. (Did I hear a collective gasp?!) That's right — I don't like cheesecake. I know, I know… I may be the only one on the face of the earth who can utter such words, but I can't bring myself to be a phony about something as vital as dessert :) Truth is, I don't like anything with cream cheese in it. Too much of a "whang" for me.
So what's my favorite restaurant/dessert shop dessert? I think it's the Molten Chocolate Cake at Chili's. No big surprise that it involves chocolate, huh? :) Just click on the link, and you'll understand why I love it so much. Mmm-mmm!!! You should just see me and my family attack one of these. It's ridiculous :)
So what's your favorite? C'mon and join this springy, Mother's Day celebration — we might discover some yummy-licious passions we have in common!
"'Let's have a feast and celebrate.'" Luke 15:23b
*Flickr photo by adrian8_8, Creative Commons License

**The next issue of Life Notes, my free quarterly inspirational newsletter, will come out the first of May. Don't miss out — sign up to receive it if you haven't already (see sidebar). Thanks!