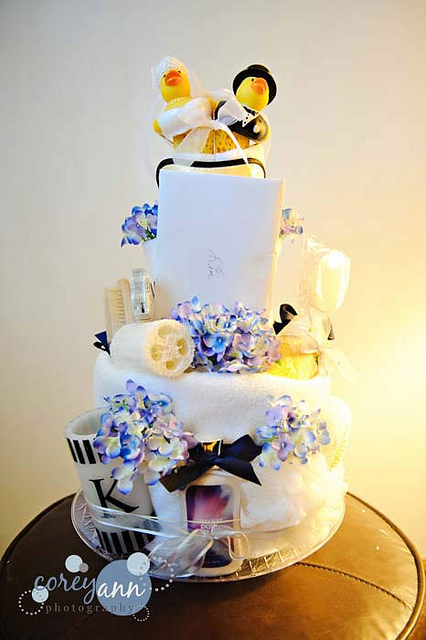 Mother of the Bride, are you looking for a cute bridal shower gift idea that will also be useful to the new Mr. and Mrs.-to-Be? Well look no further. A wedding towel cake might be just what you're looking for!
A wedding towel cake as a shower gift has several things going for it. Not only is it a clever and cute idea, but the finished product holds all the visual appeal you need. No gift wrap needed! The towel cake can also be used as a centerpiece if you so desire, and you can go with a variety of colors. You could use the bride's colors, the colors you're using at the shower, or the colors the couple has chosen for rooms in their home.
The towel cake above has a bath and body theme, but towel cakes can also feature other themes. Among them might be kitchen, rustic, bride and groom, beach, coffee lovers, or a replica of an elegant wedding cake. You might think of another idea especially fitting for your sweet girl and the new home or region where she'll be living.
What do you think, MOB? Is this something you could do to make your darling daughter's shower more memorable? If so, have fun with it—and don't forget to take photos!
 *You might also like to check out this Wedding Towel Cakes Pinterest board and this YouTube video how-to demonstration. You might also enjoy Bridal Shower Cake: A Cupcake Wedding Dress!
*Flickr photo by Corey Ann, Creative Commons License