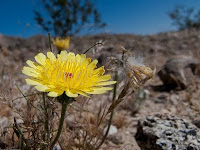 "Wanna take a drive over to the east side and see where they've torn down all the damaged structures?" we asked Don's mom after our outing to Pizza Hut the other day. We had heard that 90% of the homes and buildings destroyed by the summer flood had finally been bulldozed, and we were curious to see how things looked in that part of town now.
As we drove through the area, the tragedy of the loss struck us again. The devastation we witnessed months earlier in the aftermath of the flood had certainly shocked us, but this proved to be shocking as well. The home where Don's cousin had raised his family was gone. A historic hall on the fairgrounds was gone. A landmark barbecue joint was gone. Home after home was gone. These buildings that have always been there were simply gone.
Everything looked so empty, so ragged. No nice grassy lots, but instead soil still torn, still fresh from demolition. Of course, the barrenness of winter's end didn't help. "Maybe it will look better when things start to green up, when we get some leaves back on the trees," I said, trying to sound hopeful.
It's hard to watch your town go through this kind of ordeal. We wonder if things will ever truly bounce back. But we've got to trust that they will. Some things are already moving forward.We just need to try to keep a hopeful view of the future and the new things that will come about to fill the gaps left by the disaster nature dealt us.
Right now some of us may be faced with personal disasters of some sort. Our lives may look pretty empty or ragged. We may be hurting from fresh wounds of demolition or loss. We may wonder if we'll ever be able to bounce back. We may be trying to cling to the hope that things will surely start to look brighter.
If that's you today, hang on to your hope and trust that things will get better. God is the Master of giving beauty for ashes, of being able to bring good out of any situation. Run to Him — He's waiting for you.
"He has sent me to bind up the brokenhearted…to bestow on them a crown of beauty instead of ashes…" Isaiah 61: 1, 3
*Flickr photo by mikebaird, Creative Commons License