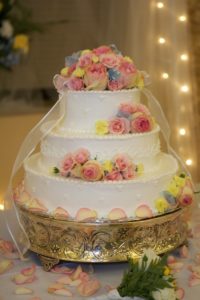 Mother of the Bride, here's a quick decorating tip for your daughter's big day—ask your florist to sprinkle fresh rose petals on all the tables at the reception. Guest tables, cake tables, photo tables, buffet tables. They look beautiful everywhere. All it takes is a few scattered here and there.
Fresh rose petals add the perfect finishing touch—a splash of color and oh so delicate. They might even provide a whiff of fragrance. Plus the lush look of fresh rose petals just can't be duplicated with the silk variety.
At our daughter Kristin's wedding, it was actually our cake baker and not our florist who added the final cake decoration of fresh roses and then surprised us by scattering petals from some of the same roses on all the tables. Not only was it gorgeous, but it helped tie all the décor together by incorporating the flowers from the cake. Thanks so much to Emeline from Grandeur Affaires: Nibbles Café in Tulsa, OK for adding so much to the overall beauty of the reception.
So check with your daughter, MOB, and see if she might want to add this delicate final touch to the tables at her wedding. Tell her I highly recommend it! :)
*You might also like to read Wedding Table Décor: Add Pizzazz with Confetti, Table Décor for Rustic Weddings, and Bride's and Bridesmaids' Bouquets as Cake Table Décor.
The next issue of Life Notes, my quarterly inspirational newsletter, comes out in early November. One lucky subscriber (new or current) will receive $15 gift card to Barnes & Noble and a signed copy of my book to use personally, give as a gift, or donate to a library. Sign-up is free and to the right! (If you're on a mobile device, scroll to the bottom of the screen and click View Full Site to find it.)
*Since the readership here on my blog is ever-changing, I hope this encore post from October 2013 helped you today!
*Photo by Chris Humphrey