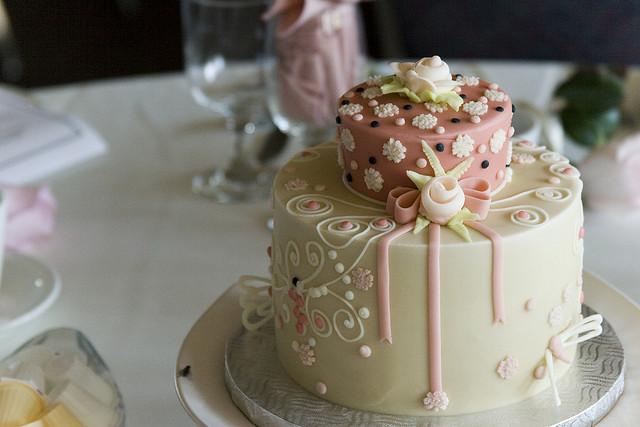 Mother of the Bride, have you or your daughter noticed the multiple mini wedding cake trend yet? I read about it not long ago on the Bridal Guide blog. They point out that many couples are opting for several smaller cakes than featuring just one star-of-the-show cake.
The possibilities when using this more-than-one-cake approach are endless. All of the cakes can be displayed on one cake table or one cake each can be used as the centerpiece for each guest table (as shown above), allowing the guests to serve themselves after the bride and groom cut their cake.
The cakes can also be different sizes and decorated either similarly or differently. You can even feature different flavors or even completely different styles—some traditional wedding cake, some cheesecake, some cupcakes, etc.
So, MOB, if your daughter has a yen to be non-traditional with her wedding and reception, multiple mini wedding cakes might strike her bridal fancy perfectly. Suggest away and see how she responds. And if she goes for it, be sure to sample as many cakes as you can on the big day! :)
*See more examples on my Wedding Cake Pinterest board or on the Bridal Guide blog post I mentioned earlier.
*Flickr photo by SMN , Creative Commons License
*You might also like to read New Wedding Cake Trend: The Ombre Cake and Wedding Cake Idea: The Drape Effect.
*The new issue of Life Notes, my quarterly inspirational newsletter, came out last week. It's not too late to receive it. Sign-up is free and to the right!
*Want to enter a fun giveaway? See my "Back At It" Giveaway post on my home page!