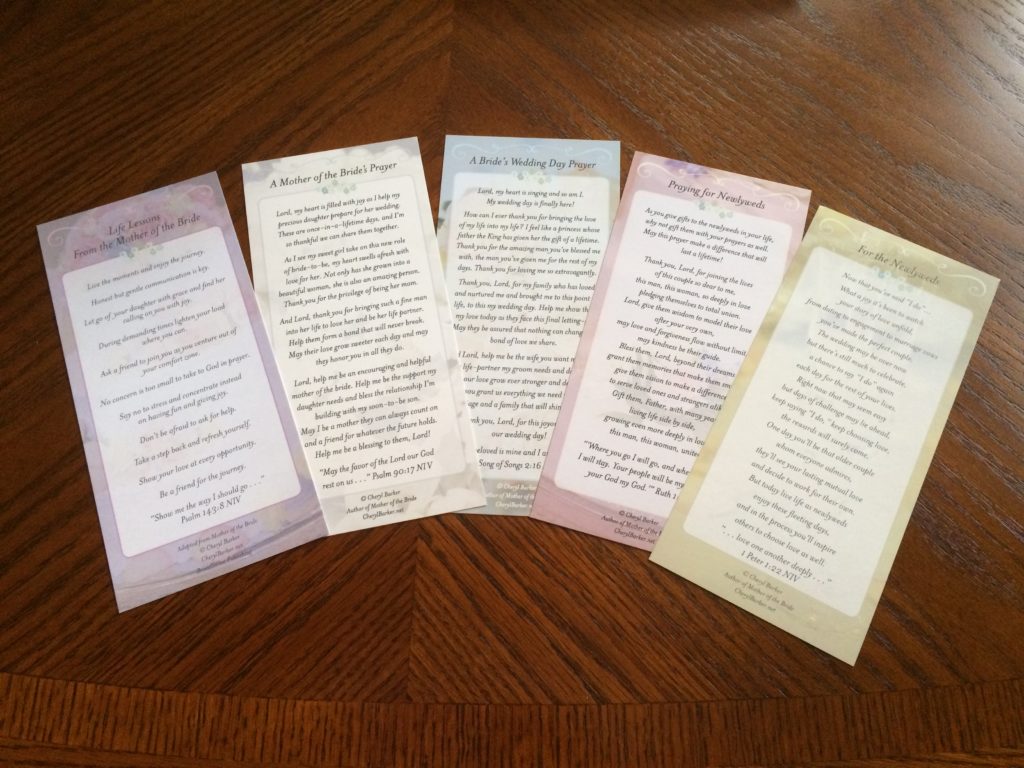 Mother of the Bride, did you know I've written some wedding-themed cards? I wanted another product to offer at bridal fairs along with my book Mother of the Bride so with the critique help of my daughter Kristin and the design expertise of Stephanie Wheatley of Wheatley Design, I created my original Wedding Inspiration cards. I'm so pleased with how they turned out. I think you'll love them too.
The five cards I have available are printed on high quality cardstock so they make wonderful gifts and/or personal resources. I mentioned them a few months ago but had never done a feature post on them so I decided it was time to rectify that. You can include the cards in gifts or give them as a gift by themselves. I don't sell envelopes with them, but they do fit perfectly in any business size envelope.
You can click on the photo above to see a larger version of the picture, but I'll list the titles of the five Wedding  Inspiration cards for your convenience:
A Mother of the Bride's Prayer
A Bride's Wedding Day Prayer
Praying for Newlyweds
For the Newlyweds
Life Lessons from the Mother of the Bride
Most of the titles are pretty self-explanatory, but Life Lessons from the Mother of the Bride features lessons that anyone can benefit from and For the Newlyweds is perfect to include in a wedding gift or to send to the new couple in the days or weeks following the wedding.
The cards sell for $3.00 each and are available directly through me. Just contact me with your order and we'll work out the details of payment and mailing, etc.
I hope my Wedding Inspiration cards will be a blessing to all who receive them—and I hope that will include you, MOB! Talk to you soon!
*For info about my book Mother of the Bride check out my Books/My Work page.
*The next issue of Life Notes, my quarterly inspirational newsletter, comes out in early November. One lucky subscriber (new or current) will receive $15 gift card to Barnes & Noble and a signed copy of my book to use personally, give as a gift, or donate to a library. Sign-up is free and to the right! (If you're on a mobile device, scroll to the bottom of the screen and click View Full Site to find it.)
*My photo