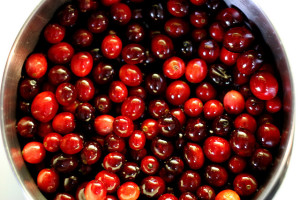 I don't feature recipes on my blog very often, but there's something about autumn, something about the holidays, that makes me want to share yummy food with you. I always try to offer soul and spirit refreshment and nourishment here, and I think a recipe can fit the bill every now and then. I don't know about you, but something yummy has a way of refreshing my spirit!
Last autumn I shared my mom's Old-Fashioned Dressing recipe, and this year I'd like to gift you with Mom's Cranberry Salad recipe. It was a regular on Mom's holiday turkey dinner menus. Mom has been gone for two years now, and we miss everything about her—including the delicious food she prepared for us all the time. So I'll share this recipe today in honor of Mom. Hope you enjoy!
Mom's Cranberry Salad
2 c. fresh cranberries
1 c. water
1 c. sugar
Boil for 10 minutes with lid (not too hard of a boil).
Add:
2 c. mini-marshmallows
1 pkg cherry jello dissolved in 1 c. hot water. (Add to cranberry mix after dissolved.)
Pour in serving bowl and start it to set up in the fridge.
When partially set, add:
1 c. finely chopped raw apple with peeling
1/2 c. chopped pecans.
Stir and then let it finish setting up. Keep refrigerated.
God bless as you prepare for your family's Thanksgiving and Christmas this year. May your celebrations include not only yummy food, but love, gratitude, and lots of great memories as well. Be refreshed this season, my friends!
"'Let me get you something to eat, so you can be refreshed and then go on your way—now that you have come to your servant.'" Genesis 18:5
*What are some favorite items on your holiday menus?
*Flickr photo by Half Chinese, Creative Commons License