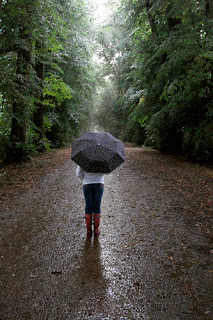 I admit it. I'd rather be out running around on a sunshiny day than to be dodging puddles and trying to keep my glasses spot-free on a dreary, rainy day. I've been known to avoid water rides at theme parks, too. I guess I just don't like getting wet :)
But while I stay holed up singing rain, rain, go away, I've noticed that our feathered friends don't let a few showers get them down or sway them from their tasks.
That's right, as long as the weather is not severe and even though they may get a little wet-for-the-wear, I still see birds out and about, singing and faithfully taking care of business—flying, looking for food, eating, working, and patrolling their territory among other things. Yes, they continue on.
Could the same be said for us when the showers of life come raining down? Do we continue on or do we easily get discouraged and pull back or even pout and give up?
Let's consider some of the things that might discourage us from pressing on with our work, our personal growth and goals, or our walk of faith.
The answers might be different for you, but for me as a writer, I can be tempted to give up when I experience rejection or hear about more things I must do to compete in the industry. I can also be derailed by the distractions of life, burn-out, lack of support, and weariness or other physical problems. I go through periods of discouragement where blogging is concerned because my readership doesn't grow (or even shrinks at times) and because I don't receive much feedback.
As I consider these culprits of discouragement to my writing life, I see that some of these same factors also hamper me in my personal and spiritual pursuits. It's hard to stay enthused when I don't feel well or when too many demands clamor for my attention or when I feel alone. On the spiritual front, I'm also impacted by feelings of failure when I sin as well as the enemy's ongoing tactics to defeat me.
It's clear that all our days will not be sunny. Rain will come. Will we let circumstances or setbacks dampen our enthusiasm and keep us holed up singing rain, rain go away, or will we faithfully continue taking care of business?
Let's not be afraid to get wet. Let's press on—rain or shine.
"But as for you, be strong and do not give up, for your work will be rewarded." 2 Chronicles 15:7
*What do you do to battle discouragement?
*Flickr photo by net_efekt
*The next issue of Life Notes, my quarterly inspirational newsletter, comes out next week. Sign up is free and to the right!