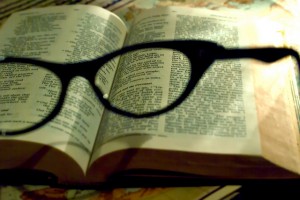 "For the word of God is living and active. Sharper than any double-edged sword, it penetrates even to dividing soul and spirit, joints and marrow; it judges the thoughts and attitudes of the heart." Hebrews 4:12
Ready to talk grammar again? Ready to consider some more verbs? Not long ago here on the blog, we explored the verbs—the actions—of the Proverbs 31 woman. Today let's look at some of the verbs of the Word of God—some of the things God's Word does.
First notice how the verse above from Hebrews assures us that God's Word is indeed active—it's alive. I love that. The handbook and lifeline that my God and Father has given me is not dead and ineffective. It's alive and at work in my life at all times.
In this verse alone, we see three verbs that show us what the Word of God can do. Do you see them?
God's Word penetrates. It has a way of going straight to the heart of a matter and can shine a light on even the most hidden or confusing parts of our lives. For example, has God ever used his Word to show you that you need to forgive someone or root out some bitterness in your life? I bet you can think of other ways that scripture has penetrated your heart, your beliefs, your behaviors, or your attitudes. I certainly can.
God's Word divides. It can help bring clarity and understanding to issues that we need to look at carefully or from various vantage points. Think of the Bible itself and how it tells the story of God's life and work in the world through using books and chapters. It also clearly delineates between sinful thoughts and acts and righteous behavior and pure thinking. Can you think of other ways it divides?
God's Word judges. God's Word is the one and only completely righteous standard by which each of us and the entire world can and will be judged. When God's righteous standard is used, it sheds light on and simultaneously judges every deed, thought, and attitude.
Another passage that reveals more verbs of the Word of God is Psalm 19:7-11. If you'll take time to read these verses, you'll find that God's Word—God's law, statutes precepts, commands, and ordinances—also does these things:
God's Word revives, makes wise, gives joy, gives light, warns us, and rewards us. I can attest to each of these things. In fact, they've been true in my life on an ongoing basis.
God's Word has refreshed and recharged me more times than I can count. It's given me wisdom for specific situations and helped me grow in wisdom in general. It's given me joy through the promises, peace, and hope found in its pages. It's provided light as it reveals knowledge about God, Jesus, and the Holy Spirit and as it gives direction for my life.
God's Word has warned me time and again to avoid behaviors or decisions that will harm me or others, and finally it has rewarded me—not only through all the actions I've already mentioned (and more!), but also simply through telling me God's plan of salvation through faith in Jesus. What greater reward could there be than eternal life with God?
Yes, I love the Word of God. And I thank God that it's alive!
"How sweet are your words to my taste, sweeter than honey to my mouth!" Psalm 119:103
*What other actions/verbs does God's Word do?
*Flickr photo by Artondra Hall