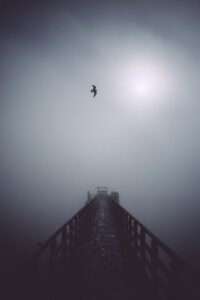 Are any of you still waiting for a blessing you hoped would come last month, last year, or even earlier? Are you waiting for an answer to prayer you felt certain would have unfolded by now? If so, don't feel alone. I'm waiting, too.
It's hard when God's answers to our desires and dreams are "no" or "wait". As we wait for the blessing to come, questions can niggle at our minds. Does God hear my prayers? Why doesn't he answer? Doesn't he care about me? Is he punishing me for something? We may even feel like he's forgotten us.
I won't presume to explain why God's answers are what they are in your life or mine, but we're all acquainted with the character growth that can take place as we learn to wait on him and trust him in every circumstance. However, knowing growth will come doesn't necessarily make the wait any easier, does it?
Maybe an example from scripture about a delayed answer could provide some encouragement or fresh insight as to why we may have to wait at times.
In the tenth chapter of Daniel, we read that God had given Daniel a revelation, but Daniel didn't understand it. He prayed and mourned for three weeks, asking God to give him understanding of the vision. At the end of the three weeks, Daniel had another vision of a man, a messenger from God (an angel or possibly even Jesus), who came to give him God's answer.
The man told Daniel, "Since the first day . . . your words were heard, and I have come in response to them." (10:12 NIV) He went on to tell him that a demon had resisted him for twenty-one days. One of the chief angels came to help him, though, and the man was now there to give Daniel the understanding he sought from God.
From this passage we see that sometimes delays to our prayers happen because of struggles and battles going on in the spiritual realm. This may not be the reason for your current season of waiting on God, but it could be a possibility.
Whatever the reason you find yourself in God's waiting room, take heart. He hasn't forgotten you. He hears you. And the answer—the blessing—is on the way.
"'When you first started praying, an answer was given . . .'" Daniel 9:23 NCV
*What blessings have you seen in your life after waiting on God?
*The current issue of Life Notes, my quarterly inspirational newsletter with a giveaway in every regularly scheduled issue, came out earlier this month. It's not too late to receive it. Sign-up is FREE and to the right! (If you're on a mobile device, scroll to the bottom of the screen and click View Full Site to find it.) *Temporary problem with Life Notes sign-up. To sign up, just contact me.
*For info about my book Mother of the Bride check out my Books/My Work page.