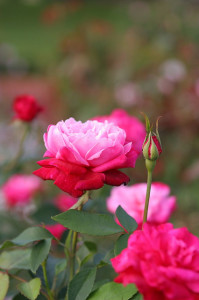 "The Lord opened her heart to respond to Paul's message." Acts 16:14b
Isn't it wonderful to know that we have a God who can open hearts? The verse above refers to Lydia and how God opened her heart to accept the gospel message Paul shared with her. Because of God's love and divine touch, Lydia entered the family of believers that day. A miracle happened.
And think of this—if God can open hearts to accept Jesus as Savior, can he not also open them for other purposes? If we ask, will he not open the heart of someone we need to seek forgiveness from—or someone we need to confront for some reason? Can he open the heart of someone whose mind needs to change on an important issue or someone we're trying to build a relationship with—like a stepchild? How about us? Can he open our hearts to forgive? Can God accomplish these miracles as well?
Let's ask God to open hearts. Let's ask God for miracles.
"'I will give you a new heart and put a new spirit in you: I will remove from you your heart of stone and give you a heart of flesh." Ezekiel 36:26
*When have you seen God open hearts?
*Flickr photo by mmmavocado;Creative Commons License
*Would you like to subscribe to my blog so you won't miss any posts? Find the email sign-up and RSS button to the right!