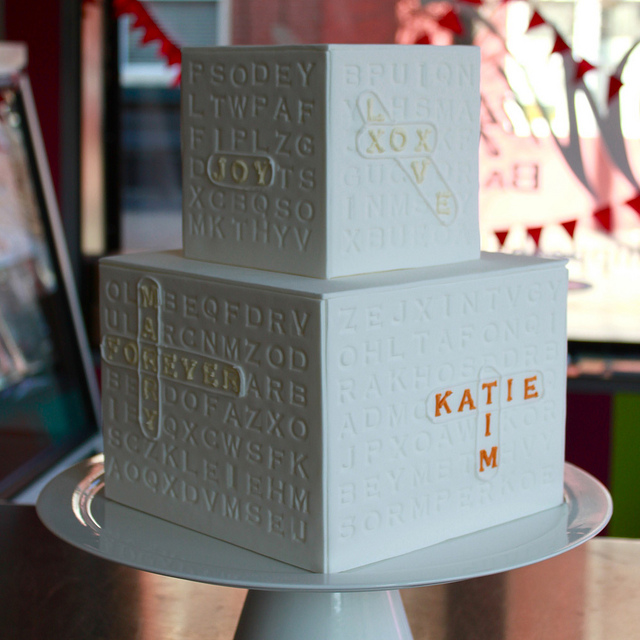 Mother of the Bride, if your daughter is looking for a unique wedding cake idea, show her this Word Search cake! It's possible she's never seen one. I hadn't until I ran across this photo.
Just think of all the ways a Word Search cake can be customized to fit the couple. They can have it done in one of the colors of their wedding, their names will make it one of a kind, the other words they choose to have highlighted can be special or memorable to them in some way, and they can also go with a topper and/or base décor of their choosing if they'd like.
Also, since this may be the first time many of your guests have ever seen a Word Search cake, it's sure to be a conversation starter. I can almost guarantee that every guest will comment on it as they catch sight of it. By the time the bride and groom arrive at the party, nearly everyone will have made their way over to the cake table to get a closer look.
So MOB, wouldn't it be fun to show your daughter an idea she's possibly not seen yet? Go for it with the Word Search cake!
*You might also like to read Cake Idea for the Rustic Wedding, Wedding Cake Idea: Beautiful Brooch Accents!, and Wedding Cake Pops Equal Fun!

*The new issue of Life Notes, my quarterly inspirational newsletter, came out earlier this month. It's not too late to receive it. Sign-up is free and to the right!
*Flickr photo by Whipped Bakeshop, Creative Commons License