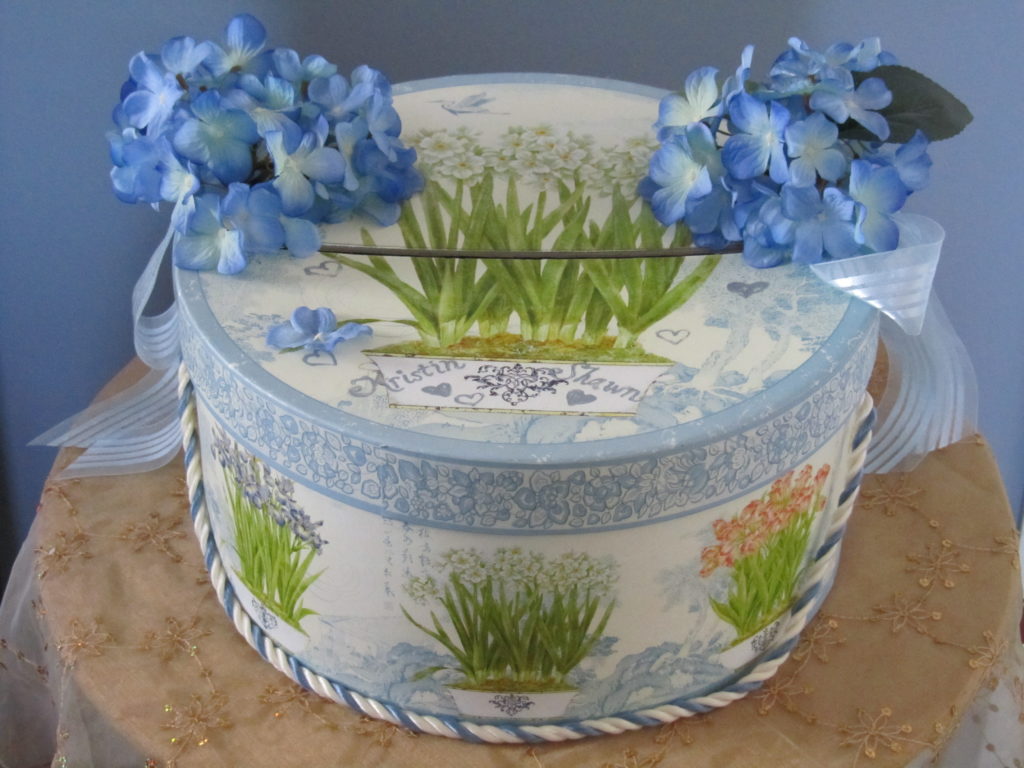 Looking for another wedding card box idea, Mother of the Bride? If your daughter would like something other than a wedding theme for her card box (as in the wedding cake card box), why not suggest a pretty hatbox for collecting the cards?
When my daughter Kristin got married, I asked the groom's mother if she would be in charge of providing the card box. My sister Debbie had provided one for her son's wedding so I thought it would be a nice way to include our groom's mom—plus relieve us of the task. Smart, huh?
Even though Linda admitted to not be very arts and craftsy (I'm not either), she happily agreed to do it. She recruited the help of a friend, and they came up with the hatbox card box pictured above. So clever and pretty!
To make the hatbox idea work for a wedding, just incorporate the wedding colors on the box as well as some gorgeous flowers and pretty ribbon. Add a corded handle and personalize with the happy couple's names, and you're good to go. It will definitely make an attractive and unique addition to the gift table.
Hope the hatbox idea appeals to you and your daughter, MOB. And if you're lucky, the groom's mom will take care of it for you!
*You might also like to read Wedding Card Box Idea: A Wedding Cake!
The next issue of Life Notes, my quarterly inspirational newsletter, comes out in early February. One lucky subscriber (new or current) will receive $15 gift card to Starbucks and a signed copy of my book to use personally, give as a gift, or donate to a library. Sign-up is free and to the right! (If you're on a mobile device, scroll to the bottom of the screen and click View Full Site to find it.)
*For info about my book Mother of the Bride check out my Books/My Work page.
*My photo