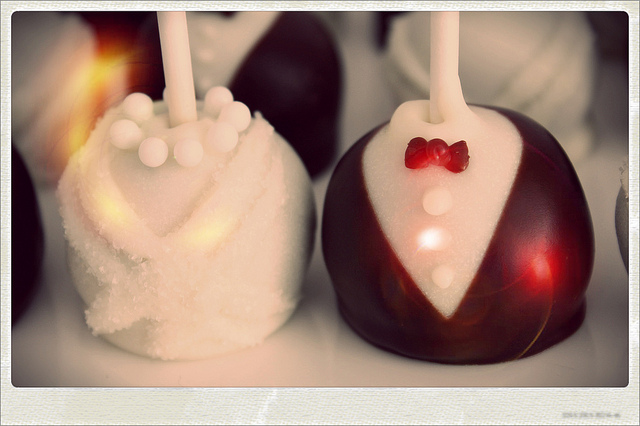 If your daughter would like to add a dash of fun to her wedding reception, Mother of the Bride, why not include wedding cake pops in the celebration? The very thought of cake pops puts smiles on faces and declarations of "Yum!" on lips. After all, everyone loves a cake pop, right?
In addition, wedding cake pops can serve several different purposes. You can wrap them in cellophane and tie a bow around them (personalized with the bride's and groom's names, of course) and offer them as favors. Or you can display them on trays or towers on a dessert table or they might even serve as the groom's cake. And if the groom wants to add his own twist to it, instead of the bride and groom designs, he could select something in his area of interest—like golf ball cake pops or baseball cake pops, etc.
So, MOB, try pointing your girl toward some wedding cake pop fun. Believe me, everyone will be glad you did!
*You might also like to read Fall Wedding Favor Idea—Caramel Apples! and Edible Favors—Yes, Please!
*Flickr photo by niner bakes, Creative Commons License