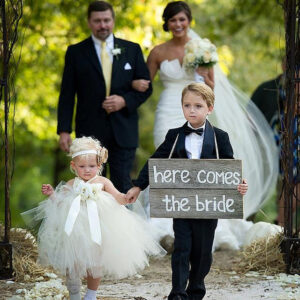 Mother of the Bride, today I have a super cute idea for your darling daughter's wedding ceremony. Don't waste a minute suggesting this idea and showing her the above photo. Cuteness this sweet deserves immediate attention, right?
Just before the bride comes down the aisle, why not have the flower girl and ring bearer help announce her entry? They won't have to say a word. They can simply walk in together while the ring bearer wears a sign proclaiming "Here Comes the Bride".
The ring bearer is the best choice as the actual sign bearer. The sign will stand out better against his black tux or suit than it would in front of a flower girl's dress. Plus, the flower girl will want to show off her dress and be as feminine as possible. The ring bearer on the other hand will be happy to have a more macho duty to carry out than carrying a little pillow down the aisle. A ring bearer never carries the real rings anyway so why not let him do something fun like this?
Letting the flower girl and ring bearer serve as a sign bearer will also provide an adorable wedding day photo. Give your photographer a heads up about your plans for the sign, and he or she will be ready to capture some sweeter than sweet shots.
So MOB, suggest away—and be ready to tuck this precious memory away with all the others you'll make on Wedding Weekend. Enjoy each moment to the fullest!
*You might also like to read Burlap Ring Bearer Pillow and Flower Girl Basket and Man's Best Friend as Ring Bearer.
*The Life Notes Subscriber Appreciation Giveaway is underway. Details are in my Oct. 19 post on my home page and sign-up is to the right under "Free For You." Deadline is 6 p.m. Nov. 11. Don't miss out on the chance to win a $25 gift card to Barnes & Noble!
*Flickr photo by outreachr.com, Creative Commons License