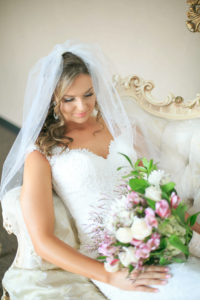 Mother of the Bride, many photographers include a bridal portrait session in the price of their services. These sessions are often scheduled for a date before the wedding, but some perfect portraits of the bride alone can also be taken on the wedding day. Your photographer will certainly have some amazing ideas for some great shots, but you can also be thinking of ideas if you're familiar with the wedding or bridal portrait venue.
If your daughter's wedding or bridal portrait venue has a fancy sofa on the premises, the photographer can capture a stunning shot of your gorgeous daughter in all her bridal glory. Just have her sit on one end of the sofa and extend her legs toward the other end with her gown cascading to the side. Believe me, it will be absolute perfection, especially if the sofa is white or ivory. Different moods can also be captured with the photographer's suggestions to the bride.
If this will work in your situation, MOB, share this idea with your sweet girl and see she what she thinks. Bet she'll love it—and will welcome putting her feet up for awhile during the photo session!
*You might also like to read Bridal Portrait Idea: A Shot with Mom, Bridal Portraits: Include Some Artsy Shots, Bridal Portrait Idea: Windows Plus Great Light, Bridal Portrait Idea: A Mirror Shot, Bridal Portrait Idea: Watching for the Groom, and Bridal Portrait Idea: A Stairway Shot.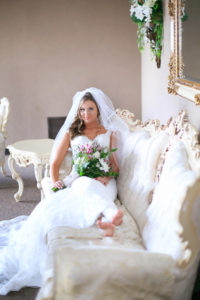 The next issue of Life Notes, my quarterly inspirational newsletter, comes out in early February. One lucky subscriber (new or current) will receive $15 gift card to Starbucks and a signed copy of my book to use personally, give as a gift, or donate to a library. Sign-up is free and to the right! (If you're on a mobile device, scroll to the bottom of the screen and click View Full Site to find it.)
Photos by Stephtphotography