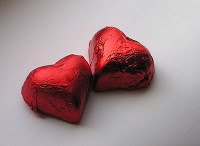 Happy Valentine's Day to all — but especially to our Sweet Giveaway winner! The winner of the Godiva gift card is… Kelli!! Congratulations, Kelli! Can't beat winning some chocolate for Valentine's Day, huh? :) As for the rest of us, let's keep our fingers crossed, and maybe we'll get to enjoy a sweet chocolate surprise sometime over the next few days, too. (It doesn't hurt to dream, does it?!)
I hope Valentine's Day holds something special for each and every one of you. Maybe something memorable, something unexpected. Maybe a card, a gift, or even some treasured words of love. And whatever comes your way this Valentine's Day, may you be not only a recipient but a giver as well.
As you think about love in the next day or two, consider these familiar words from a chapter in the Bible known as the love chapter. Try not to read over them too quickly. Instead, consider them with fresh eyes:
"If I speak in tongues of men and of angels, but have not love, I am only a resounding gong or a clanging cymbal…if I have a faith that can move mountains, but have not love, I am nothing…Love is patient, love is kind. It does not envy, it does not boast, it is not proud. It is not rude, it is not self-seeking, it is not easily angered, it keeps no record of wrongs. Love does not delight in evil but rejoices with the truth. It always protects, always trusts, always hopes, always perseveres. Love never fails…" 1 Corinthians 13:1-2; 4-8a
May you love and be loved this Valentine's Day!
*Flickr photo by Muffet